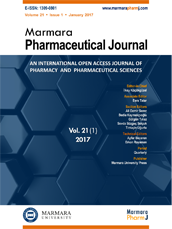 Editor-in-Chief
İlkay Küçükgüzel
Associate Editor
Aslı Türe
Online ISSN
2630-6344
Publisher
Marmara University
Frequency
Bimonthly (Six issues / year)
Abbreviation
J.Res.Pharm.
Former Name
Marmara Pharmaceutical Journal
Marmara Pharmaceutical Journal
2017 , Vol 21 , Issue 3
Assessment of Cellular Responses in Kidney Cells Exposed to Cobalt Oxide Nanoparticles
1Istanbul University, Faculty of Pharmacy, Department of Pharmaceutical Toxicology, Beyazit 34116, Istanbul-Turkey
2Istanbul University, Faculty of Engineering, Department of Chemical Engineering, Avcilar, 34850, Istanbul-Turkey
3Karadeniz Technical University, Faculty of Pharmacy, Department of Pharmaceutical Toxicology, 61000, Trabzon-Turkey
DOI :

10.12991/marupj.318619
Background: Cobalt oxide (Co3O4) nanoparticles have been extensively used in various industrial and medical applications due to their special optical, magnetic, and electrical activity features. However, there is a lack of information about their toxicity and adverse effects on human health, especially concerning the kidney, which is considered to be a secondary target organ.

Methods: We investigated the cytotoxic, genotoxic, and apoptotic potentials of Co3O4 nanoparticles on NRK-52E kidney epithelial cells by in vitro assays.

Results: Co3O4 nanoparticles were taken up by the kidney cells, and caused a decrease in cell viability, significantly inducing apoptosis/necrosis at ³100 µg/mL. However, no significant DNA damage was observed.

Conclusion: Co3O4 nanoparticles induced cellular toxicity in kidney cells. These results should raise concern about the safety of Co3O4 nanoparticles in their various applications. Further studies are needed to elucidate their toxic mechanism.
Keywords :

Genotoxicity; Cytotoxicity; Apoptosis; Nanoparticle; Cobalt oxide