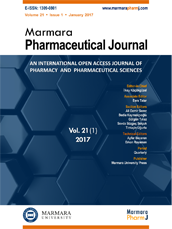 Editor-in-Chief
Hatice Kübra Elçioğlu
Vice Editors
Levent Kabasakal
Esra Tatar
Online ISSN
2630-6344
Publisher
Marmara University
Frequency
Bimonthly (Six issues / year)
Abbreviation
J.Res.Pharm.
Former Name
Marmara Pharmaceutical Journal
Author benefits
Long-term archiving
Journal of Research in Pharmacy (JRP) supports Open Data. After acceptance, articles will be made publicly available on our journal's website under Institutional Repository :dspace.marmara.edu.tr. JRP is committed to ensuring long-term access to its entire content and is preserved via the LOCKSS system, a key archiving initiative that enables member libraries to collect, store and provide access to their own local copy of the journal. Also, LOCKSS system has permission to collect, preserve, and serve this open access Archival Unit.
Rigorous peer-review
Maintaining high editorial standards is JRP's first priority. Submissions are preliminarily assessed by the Editors who also guide the formal peer-review process. Submissions that don't meet minimum acceptance criteria and ethical standards are directly rejected. For more information and author guidelines, please see our website. All submitted manuscripts are peer-reviewed by independent expert reviewers. JRP follows the single blind peer-review procedure for submission of all manuscripts in order to ensure that research content meets ethical and scientific quality standards. JRP uses iThenticate® to detect any instances of overlapping of submitted content with any existing published material.
Open access and free publishing… Free for all.
Authors may avail JRP's Open Access publication feature and share their research to a potentially large number of scientists worldwide. Processing and publication are free of charge with the journal. Fees are not requested from the authors at any point during the evaluation and publication period. All published content is available online, free of charge at www.jrespharm.com.
Electronic publication enables you to publish extensive colour figures and supplementary materials which makes your research more accessible and reliable. You can take the advantage of these features, that may not be possible in a print-only journal, at no extra cost.
JRP's copyright statement allows you and your institution to reproduce, distribute and communicate the published version of your article to the public.
Receive referee feedback in just over a month
We understand the importance of fast publication to you. JRP takes advantage of its online medium by providing competitive publication times while ensuring a strict reviewing procedure. Overally you will receive a decision within 36 days of submitting an article.
Increase your searchability through indexation services
JRP is indexed by major abstracting and indexing media including; ABC Chemistry, Chemical abstracts online (SciFinder), CiteFactor, EBSCO Host, Emerging Sources Citation Index (ESCI) (Thomson-Reuters), Google Scholar, Index Copernicus, J-Gate, Scimago Journal & Country Rank (SJR), Scopus, Turk Medline, Türkiye Atıf Dizini, ULAKBİM TR-Dizin (TR Index), Ulrichsweb.