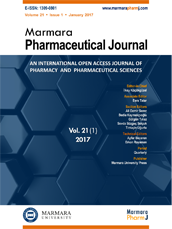 Editor-in-Chief
İlkay Küçükgüzel
Associate Editor
Aslı Türe
Online ISSN
2630-6344
Publisher
Marmara University
Frequency
Bimonthly (Six issues / year)
Abbreviation
J.Res.Pharm.
Former Name
Marmara Pharmaceutical Journal
Marmara Pharmaceutical Journal
2017 , Vol 21 , Issue 3
HPLC Assay Method Development and Validation for Quantification of Capecitabine in Tablets and Forced Degradation Samples
1Department Of Pharmaceutıcal Chemıstry, Bharatı VIDYAPEETH COLLEGE Of Pharmacy, Kolhapur – 416013, INDIA
DOI :

10.12991/marupj.323588
A simple, rapid, accurate and stability indicating RP-HPLC method was developed for the determination of Capecitabine in pure and tablet dosage form. The mobile phase consisting of 0.1% aqcetic acid, methanol and acetonitrile in the ratio of 35:60:5 v/v. The Inertsil ODS (octadecyl silane), C18, 3V, 250 x 4.6 mm, 5μm with UV detection 304 nm was used. The retention time was found to be 6.4 minutes. The method was statistically validated for accuracy, linearity, precision, robustness, specificity and range. The method was found linear over the concentration range of 50-150 μg/ml. The recovery studies of dosage form were also carried out and analyzed; the % relative standard deviation (RSD) from recovery studies was found to be within limits. The specificity of the method was ascertained by forced degradation studies by acid, alkali hydrolysis and oxidation. About 35% of drug is degraded in acidic medium and less than that in alkaline and oxidative conditions. Due to simplicity, rapidity and accuracy of the method, the method will be useful for routine analysis and checking purity of capecitabine tablet. The method further can be investigated for pharmacokinetic and biopharmaceutical analysis.
Keywords :

Capecitabine, 5-fluorouracil, metastatic breast, colorectal cancer, RP-HPLC, ICH guidelines