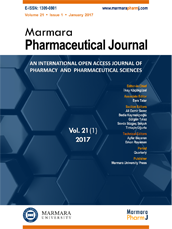 Editor-in-Chief
İlkay Küçükgüzel
Associate Editor
Aslı Türe
Online ISSN
2630-6344
Publisher
Marmara University
Frequency
Bimonthly (Six issues / year)
Abbreviation
J.Res.Pharm.
Former Name
Marmara Pharmaceutical Journal
Marmara Pharmaceutical Journal
2017 , Vol 21 , Issue 2
RP-HPLC Estimation of Alogliptin and Pioglitazone Simultaneously in Combined Tablet Dosage Forms
1Department of Chemistry, Acharya Nagarjuna University, Nagarjuna nagar, Guntur-522510, Andhra Pradesh, India
2Department of Applied Sciences and Humanities, Sasi Institute of Technology and Engineering, Tadepalligudem - 534101, Andhra Pradesh, India
3Department of Chemistry, SGK Government Degree College, Vinukonda-522647, Andhra Pradesh, India
DOI :

10.12991/marupj.300864
A high performance liquid chromatographic method was developed to quantify alogliptin and pioglitazone simultaneously in bulk and combined tablet dosage form. The chromatographic analysis was done on a Zorbax C8 column (150 mm x 4.6 mm internal diameter, 5 μm particle size) with a mobile phase of 0.1 M ammonium acetate and methanol (50:50, v/v) at 1.0 mL/min. The effluents were monitored at 248 nm and the retention time of alogliptin and pioglitazone were 2.883 min and 4.329 min, respectively. Calibration curves were linear from 6.25-18.75 μg/mL for alogliptin and 11.25-33.75 μg/mL for pioglitazone. The LOD and LOQ values for alogliptin were 0.047 and 0.157 μg/mL, respectively; corresponding values for pioglitazone were 0.085 and 0.284 μg/ mL, respectively. The precision for alogliptin and pioglitazone was in the range of 0.094-0.303% and 0.072-0.239%, respectively, with corresponding accuracy of 99.450-99.692% and 100.184-100.422%. The developed and validated method was successfully applied for the simultaneous determination of alogliptin and pioglitazone in tablet formulation.
Keywords :

Alogliptin, Pioglitazone, Liquid Chromatography, Tablets, Assay