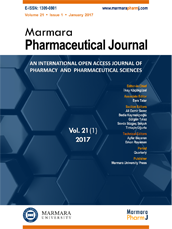 Editor-in-Chief
İlkay Küçükgüzel
Associate Editor
Esra Tatar
Online ISSN
2630-6344
Publisher
Marmara University
Frequency
Bimonthly (Six issues / year)
Abbreviation
J.Res.Pharm.
Former Name
Marmara Pharmaceutical Journal
OUR NEW MANUSCRIPT TEMPLATE AND COPYRIGHT TRANSFER AGREEMENT
OUR NEW MANUSCRIPT TEMPLATE AND COPYRIGHT TRANSFER AGREEMENT
Due to our journal's decision to change its name to Journal of Research in Pharmacy, our manuscript template and copyright transfer agreement has been renewed.
The updated documents require some more attention, especially for those who are familiar with our previous template and agreement forms. As a non-profit scientific journal which guarantee free access and free publishing, we give priority to quality and transparency of scientific contents in our articles. In a non-commercial environment, typesetting of the accepted manuscripts can be a rate-limiting step for rapid publication. For this purpose, we will accept manuscripts as camera-ready files.
From now on, please make sure that Journal of Reserach in Pharmacy will only receive camera-ready manuscripts. The prospective authors are requested to strictly use this template as they prepare their manuscripts. Our journal will NOT provide editing and typesetting service for the manuscripts. A noncompliant manuscript will be returned to its corresponding author without further processing.
Authors are also requested to pay attention to the following points on completion of the copyright transfer agreement :
Author names should be written in the same way and order in the copyright transfer agreement and manuscript. Please type full names of all authors - do NOT use initials for names and/or surnames.
Correct example : John William GORROD
Do not write as : J.William Gorrod ; John W. Gorrod ; J.W. Gorrod, etc.
Author contribution statement should be carefully filled so that, all authors should be present in critical review stage and all authors should have at least three different contributions. Any person who does not fulfill these two criterions will NOT be accepted as and author.
Corresponding authors are responsible for the completeness and correctness of the agreement document. All authors should sign the form – noone can sign the form on behalf of any authors. Signatures as copied pictorial images are not welcome. Please use blue ink pen and scan the form in color.
If there are any discrepancies between the manuscript and agreement, the submission will be returned to the author without further processing.
Name order of the authors cannot be changed after the first submission in any stage. If an unauthorized change in the author names and /or name sequence is detected, the manuscript will be initially suspended and then rejected even if it has been accepted by the referees.