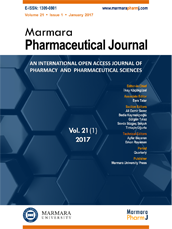 Editor-in-Chief
İlkay Küçükgüzel
Associate Editor
Aslı Türe
Online ISSN
2630-6344
Publisher
Marmara University
Frequency
Bimonthly (Six issues / year)
Abbreviation
J.Res.Pharm.
Former Name
Marmara Pharmaceutical Journal
Journal of Research in Pharmacy
2020 , Vol 24 , Issue 6
Nepeta humilis Bentham: First evaluation of phenolic profile and radical scavenging potential
1Department of Pharmacognosy, Faculty of Pharmacy, Ankara University, Ankara, Turkey
2Department of Pharmaceutical Botany, Faculty of Pharmacy, Ankara University, Ankara, Turkey
DOI :

10.35333/jrp.2020.249
In traditional medicine, Lamiaceae plants are widely used as a cure for various health problems. Nepeta humilis is one of the Lamiaceae plants of Iranian-Turkish district growing naturally in the South East Anatolia. The present study was designed to investigate the radical scavenging activity and total phenolic content of Nepeta humilis as well as to determine the phenolic constituents of the extracts of flowers, leaves and roots using a previously validated RP-HPLC-DAD method for the first time. The total phenolic contents of flowers, leaves and roots were found as 123.18 ± 1.01, 66.20 ± 0.49 and 54.77 ± 1.23 mg GAE/g extract, respectively. In accordance with the higher total phenolic content, flower extract of the plant displayed more radical scavenging activity with both assays. HPLC results revealed that rosmarinic acid was detected as one of the main compounds in all the investigated parts of the plant, especially in the flowers (0.397 ± 0.01 g/100g dry weight). Also, chlorogenic acid, luteolin and apigenin were found in particular amount in the flower extract. Nepeta humilis is rich in phenolic compounds and can be evaluated as a promising antioxidant source.
Keywords :

Nepeta; Lamiaceae; radical scavenging; HPLC; phenolic compounds