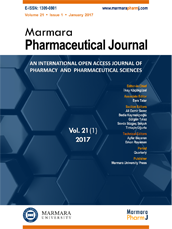 Editor-in-Chief
İlkay Küçükgüzel
Associate Editor
Aslı Türe
Online ISSN
2630-6344
Publisher
Marmara University
Frequency
Bimonthly (Six issues / year)
Abbreviation
J.Res.Pharm.
Former Name
Marmara Pharmaceutical Journal
Journal of Research in Pharmacy
2020 , Vol 24 , Issue 6
Development and characterization of camphor-loaded ozonated olive oil nanoemulsions
1Department of Pharmaceutical Technology, Faculty of Pharmacy, Gazi University, Yenimahalle 06330 Ankara, Turkey
2Nano Farma Cosmetic Drug Consultancy Company, Gölbaşı 06830 Ankara, Turkey
DOI :

10.35333/jrp.2020.253
The purpose of present study is to prepare and characterize camphor-loaded ozonated olive oil nanoemulsions (NEs). In this study, olive oils were ozonated with different times (up to 24 h) and their viscosities were examined. NEs were prepared by high-energy ultrasonication technique and characterized according to droplet size distribution, zeta potential, microscopic evaluation, and storage stability. The effect of oil phase/aqueous phase volume ratio, sonication time, and co-solvent (glycerol) on formulations were evaluated. 6 h ozonated olive oil was chosen for developing NEs due to its liquid form and viscosity (189 mPas). The obtained camphor-loaded NEs (with or without glycerol) had nearly 300 nm droplet size with negative zeta potential. Microscopic analysis revealed the spherical shape of droplets. The long-term stability tests showed that camphor-loaded NEs with glycerol were more stable than NEs without glycerol at 4 °C and 25 °C. According to the results, ozonated olive oil based NEs with glycerol might be promising nanosystems for topical delivery of camphor.
Keywords :

Camphor; nanoemulsions; ozonated olive oil; long-term stability