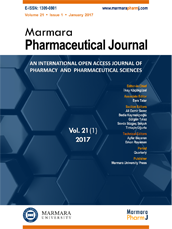 Editor-in-Chief
İlkay Küçükgüzel
Associate Editor
Aslı Türe
Online ISSN
2630-6344
Publisher
Marmara University
Frequency
Bimonthly (Six issues / year)
Abbreviation
J.Res.Pharm.
Former Name
Marmara Pharmaceutical Journal
Journal of Research in Pharmacy
2020 , Vol 24 , Issue 3
Chronic effects of tramadol hydrochloride/paracetamol oral administration on haematological parameters and glucose level in Wistar rats
1Department of Biology, Faculty of Science, University of Sarajevo, Sarajevo, Bosnia and Herzegovina
DOI :

10.35333/jrp.2020.152
Tramadol hydrochloride/paracetamol is an opioid that is composed of two different analgesics, tramadol (opioid, 37.5 mg) and paracetamol (non opioid, 325 mg). The study presents first data of tramadol hydrochloride/paracetamol effects on haematological parameters and glucose levels in Wistar rats. Oral administration ad libitum of tramadol hydrochloride/paracetamol was administered during a twenty days period. This research includes two groups of animals. Group I include animals that were administered tramadol hydrochloride/paracetamol daily at dosage of 1.12 g/300 ml and group II that were administered daily at dosage of 1.68 g/300 ml of water. We analayzed 14 haematological parameters and glucose concentration. Significant changes were established for all analyzed parameters. Significantly low numbers of erythrocytes, leukocytes and lymphocytes were observed. Tramadol hydrochloride/paracetamol has an extremely negative effect on haematological parameters in Wistar rats, particularily on the blood coagulation due to the thrombocitopenia, anaemia and weakened immunity. If properly administered, tramadol hydrochloride/paracetamol can be an effective analgesic but at high dosage and over a prolonged period it may cause adverse effects in Wistar rats.
Keywords :

Tramadol hydrochloride/paracetamol; Wistar rats; haematological parameters; glucose