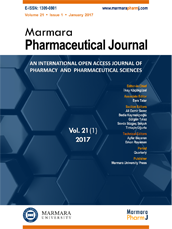 Editor-in-Chief
İlkay Küçükgüzel
Associate Editor
Aslı Türe
Online ISSN
2630-6344
Publisher
Marmara University
Frequency
Bimonthly (Six issues / year)
Abbreviation
J.Res.Pharm.
Former Name
Marmara Pharmaceutical Journal
Journal of Research in Pharmacy
2020 , Vol 24 , Issue 3
Antiasthmatic activity of 2-piperidone by selective animal models
1Department of Pharmacy, Research Scholar, Jawaharlal Nehru Technological University, Kakinada - 533003, East Godavari (Dist.), Andhra Pradesh, India
2Department of Pharmacognosy & Phytochemistry, Faculty of Pharmacy, Vijaya Institute of Pharmaceutical Sciences for Women, Enikepadu - 521108, Vijayawada, Krishna (Dist.), Andhra Pradesh, India
3Department of Medicinal Chemistry, Faculty of Pharmacy, Nirmala College of Pharmacy, Atmakur, Mangalagiri - 522503, Guntur (Dist.), Andhra Pradesh, India
4Department of Pharmaceutics, Faculty of Pharmacy, Acharya Nagarjuna University, Nagarjuna Nagar - 522510, Guntur (Dist.), Andhra Pradesh, India
DOI :

10.35333/jrp.2020.155
2-piperidone is a six membered heterocyclic compound existing naturally in piperaceae and portulaceae families. The synthetic derivatives of piperidone are promising bioactive molecules. They are antioxidant and anti-inflammatory agents. Antihistaminic and anticholinergic studies are used as a part of antiasthmatic study. In the current study antihistaminic and anticholinergic studies were carried out using guinea pig bronchi and ilei in naturally isolated compound 2-piperidone from the plant Talinum portulacifolium. The results indicate that the compound (2 mg/kg 10.81 ± 1.29*** at p<0.001) showed profound antihistaminic activity significantly in histamine induced bronchospasm model than standard drug chlorpheniramine (2 mg/kg 8.77±0.43** at ** p<0.01). The compound can be further studied for antiasthmatic activity by various other ways to establish its mechanism of action as well as drug development studies to render it a novel antiasthmatic drug.
Keywords :

Antiasthmatic; bronchospasm; antihistaminic; 2-piperidone