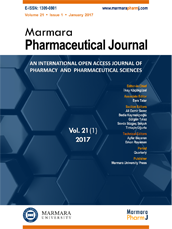 Editor-in-Chief
İlkay Küçükgüzel
Associate Editor
Aslı Türe
Online ISSN
2630-6344
Publisher
Marmara University
Frequency
Bimonthly (Six issues / year)
Abbreviation
J.Res.Pharm.
Former Name
Marmara Pharmaceutical Journal
Journal of Research in Pharmacy
2020 , Vol 24 , Issue 1
Effect of brewing material and various additives on polyphenolic composition and antioxidant bioactivity of commercial Tilia platyphyllos Scop. infusions
1Department of Pharmacognosy, Faculty of Pharmacy, Acıbadem Mehmet Ali Aydınlar University, İstanbul, Turkey
2Department of Pharmacognosy, Faculty of Pharmacy, Yeditepe University, İstanbul, Turkey
DOI :

10.35333/jrp.2020.119
Herbal infusions have become very popular due to their pleasant flavor as well as their positive influence on health. The compositions of such infusions are affected by the extraction technique, duration, additives as well as container materials. This study implements comparison of antioxidant activities and phenolic contents of the infusions commercially purchased Tilia platyphyllos Scop. samples, one of the most preferred herbal infusions worldwide, prepared by using teapots with different materials. Antioxidant potencies of the samples were examined using tests with different mechanisms such as free radical scavenging test (DPPH), metal-related activity tests (CUPRAC, FRAP). On account of assessing the phenolic profile, total phenol, phenolic acid and flavonoid contents were estimated spectrophotometrically. In addition, the presence of protocatechuic acid in the extracts was investigated by HPTLC densitometry (between 0.762-1.037 w/w%). Besides, antioxidant activities (DPPH, CUPRAC and TOAC) of the extracts were re-calculated after addition of natural/synthetic sweeteners, brown and white sugar, lemon, flower and pine honeys to the infusions. Results showed that the highest total antioxidant capacity was seen on Tiliae infusions prepared in ceramic teapot (672.80±1.40 mg AAE/g DE). Moreover, stevioside addition enhanced DPPH radical scavenging of Tiliae extracts (2781.76±44.38 EC50 in μg/mL). This is the first report related with comparison of these brewing materials and additives in respect to their phenolic content and antioxidant activity of herbal teas.
Keywords :

Tilia platyphyllos; infusion; antioxidant activity; HPTLC; protocatechuic acid