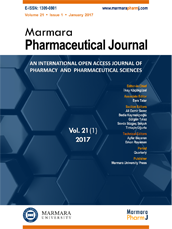 Editor-in-Chief
İlkay Küçükgüzel
Associate Editor
Aslı Türe
Online ISSN
2630-6344
Publisher
Marmara University
Frequency
Bimonthly (Six issues / year)
Abbreviation
J.Res.Pharm.
Former Name
Marmara Pharmaceutical Journal
Journal of Research in Pharmacy
2020 , Vol 24 , Issue 1
Quality assessment of marketed food supplements and herbal tea products of olive leaf in Turkey
1Department of Pharmacognosy, Faculty of Pharmacy, Yeditepe University, 34755, İstanbul, Turkey
DOI :

10.35333/jrp.2020.123
In this study, qualitative and quantitative analysis of commercially available food supplements composed of olive leaf extract and herbal tea products containing olive leaf were evaluated by High-Performance Thin-Layer Chromatography (HPTLC) and a newly developed and validated High-Performance Liquid Chromatographic (HPLC) method for their quality assessment. In addition, leaves of two varieties of Olea europaea L. (var. europaea and var. sylvestris) grown in Turkey which were assigned as reference plant materials and their chemical compositions were also comparatively analyzed by HPTLC. Then HPTLC fingerprints of reference plant materials were compared to the marketed olive leaf samples. For quantification of oleuropein and luteolin 7-O-glucoside (L7G) contents in the samples, a simple and fast HPLC method was developed and validated. Consequently, in water and hydroalcoholic extracts of O. europaea var. europaea leaves, oleuropein contents were found to be 15.89% (w/w) and 15.84% (w/w), while L7G contents were 0.75% and 1.23%, respectively. For the reference materials, oleuropein in O. europaea L. var. sylvestris leaves was found to be 12.77% (w/w, in water extract) and 12.36%(w/w, in hydroalcoholic extract), while the concentration of L7G was 0.51% (w/w) and 0.83% (w/w) in water and hydroalcoholic extracts, respectively. Qualitative analysis of the commercial products revealed that fraud was detected in three of eight olive leaf herbal tea bag brands and two of ten olive leaf food supplements. These samples were found either devoid of oleuropein or they had different HPTLC fingerprint profiles than the reference samples.
Keywords :

Olea europaea; oleuropein; luteolin 7-O-glucoside; high-performance thin-layer chromatography (HPTLC); high-performance liquid chromatography (HPLC); quality control