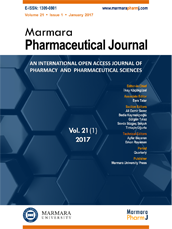 Editor-in-Chief
İlkay Küçükgüzel
Associate Editor
Aslı Türe
Online ISSN
2630-6344
Publisher
Marmara University
Frequency
Bimonthly (Six issues / year)
Abbreviation
J.Res.Pharm.
Former Name
Marmara Pharmaceutical Journal
Journal of Research in Pharmacy
2019 , Vol 23 , Issue 3
Novel RP-HPLC method for estimation of paracetamol and promethazine simultaneously in syrup formulation
1Faculty of Pharmaceutical Sciences, MM College of Pharmacy, MM (Deemed to be University), Mullana, Ambala- 133207 Haryana, India
2Maharishi Markandeshwar University, Kumarhatti, Solan-173229 Himachal Pradesh, India
DOI :

10.12991/jrp.2019.154
Paracetamol with Promethazine HCl is most popular over the counter drug which is used as antipyretic and antiemetic. A novel, simple, precise, less time consuming, economical and accurate reverse phase HPLC method has been developed for their estimation using water, methanol and acetic acid in 79:20:1 v/v/v ratio as eluting phase on Kromasil Silica column keeping flow rate at 1ml/min and detection at 249 nm. Both drugs observed linearity between 10-50μg/ml and successfully resolved within 6 minutes (3.565 and 5.641 minutes for paracetamol and promethazine respectively) with percent recovery between 98-101%. Tailing factor is within the range and number of theoretical plates is more than 2500. Method was validated as per ICH guidelines and the results indicate that these drugs could be quantified simultaneously without excipient interference and thus suitable for routine analysis of drugs in combination.
Keywords :

Paracetamol; promethazine; HPLC; validation; simultaneous estimation