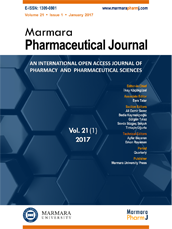 Editor-in-Chief
İlkay Küçükgüzel
Associate Editor
Aslı Türe
Online ISSN
2630-6344
Publisher
Marmara University
Frequency
Bimonthly (Six issues / year)
Abbreviation
J.Res.Pharm.
Former Name
Marmara Pharmaceutical Journal
Journal of Research in Pharmacy
2019 , Vol 23 , Issue 3
Neurotoxic effects of bisphenol A on SH-SY5Y neuroblastoma cells via nitric oxide
1Department of Biochemistry, Faculty of Pharmacy, Hacettepe University, Ankara, Turkey
DOI :

10.12991/jrp.2019.143
Bisphenol A (BPA, 2,2-bis(4-hydroxyphenyl)propane)polycarbonate is an industrial component frequently used as an additive in the construction of epoxy resin and other non-polymer plastics. In this study cytotoxicity of low dose BPA (0.01 μM-100 μM ) and NO levels in SH-SY5Y cells were assessed together to determine whether there is a correlation between of them. MTT Cytotoxicity assays were performed by applying BPA at increasing doses (0.01 μM-100 μM) for 8, 24, 72 hours. Measurements to determine the nitric oxide (NO) levels of the cells, were made using the Griess method at the same time intervals and at the equal doses with BPA. It is found that percentage viability values in SH-SY5Y cells treated with 100 μM BPA for 8 hours, is reduced statistically significant compared to control groups (p<0.001). A significant correlation was found between cytotoxicity results and NO levels of cells treated BPA (0.01 μM-100 μM) for 8 and 72 hours ( p<0.01, p<0.001 respectively). Neurotoxic effects of low dose BPA exposure on SH-SY5Y cells may be explained with increase in the levels of NO as a result from different parameters. One of these parameters could be a disorder in the synthesis of nNOS on different stages such as transcription and translation.
Keywords :

Bisphenol A; nitric oxide; cytotoxicity; neurotoxicity