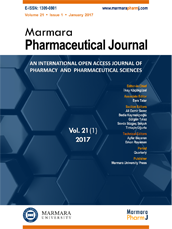 Editor-in-Chief
İlkay Küçükgüzel
Associate Editor
Aslı Türe
Online ISSN
2630-6344
Publisher
Marmara University
Frequency
Bimonthly (Six issues / year)
Abbreviation
J.Res.Pharm.
Former Name
Marmara Pharmaceutical Journal
Journal of Research in Pharmacy
2019 , Vol 23 , Issue 3
Comparative morphology and fruit anatomy of Ferula szowitsiana DC. and Ferula caspica M.Bieb.
1İstanbul University, Faculty of Pharmacy, Department of Pharmaceutical Botany, İstanbul, TURKEY
DOI :

10.12991/jrp.2019.165
Ferula caspica and Ferula szowitsiana grow in the same area of Central Anatolia. According to Flora of Turkey, they can be easily confused for one another during the flowering time. In this study, morphological and anatomical features of these two species were examined in order to reveal their differences. Leaves, flowers and fruits of these two species were examined and necessary measurements were made. The proliferation in the inflorescence of F. caspica, was not observed in the species F. szowitziana.There were distinct morphological differences in the fruits, also, the numbers of the secretory channels were different in the anatomical sections of mericarps. Morphological differences were observed in leaf lobes of these two species. As a result, the data that can be used to distinguish between these species are shown.
Keywords :

Ferula caspica; Ferula szowitsiana; anatomy; Apiaceae; morphology