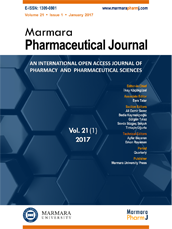 Editor-in-Chief
İlkay Küçükgüzel
Associate Editor
Aslı Türe
Online ISSN
2630-6344
Publisher
Marmara University
Frequency
Bimonthly (Six issues / year)
Abbreviation
J.Res.Pharm.
Former Name
Marmara Pharmaceutical Journal
Journal of Research in Pharmacy
2019 , Vol 23 , Issue 3
Stability-indicating high performance liquid chromatographic method for simultaneous assay of pibrentasvir and glecaprevir: Method development, validation and application to tablet dosage forms
1Department of Pharmacy, Government Polytechnic for Women, Kakinada, and Research Scholar, JNTUniversity Kakinada, India
2Department of Pharmaceutical Analysis, V. V. Institute of Pharmaceutical Sciences, Gudlavalleru, Andhra Pradesh, India
3Department of Pharmacy, Government Polytechnic, Visakhapatnam, Andhra Pradesh, India
DOI :

10.12991/jrp.2019.153
Pibrentasvir and glecaprevir combination therapy acts by inhibiting RNA replication and viron assembly in hepatitis C virus. The aim and objective of the present investigation is to develop and validate a stability indicating RP-HPLC method for simultaneous quantification of pibrentasvir and glecaprevir in bulk and tablets. Pibrentasvir and glecaprevir were separated and analyzed on Agilent Eclipse column (4.6 mm × 150 mm, 5 m). The mobile phase consisted of 0.1% orthophosphoric acid and methanol (30:70, v/v), that was isocratically delivered at a flow rate of 1.0 mL/min. Retention times were 1.857 min for glecaprevir and 2.681 min for pibrentasvir. Good regression coefficients were obtained in range of 50-250 μg/mL for glecaprevir and 20–100 μg/mL for pibrentasvir. The results of validation parameters like selectivity, precision, accuracy and robustness are satisfactory. Tablet sample containing pibrentasvir and glecaprevir was subjected to degradation with 0.1N HCl, 0.1N NaOH, 30% hydrogen peroxide, thermal and photo conditions. The resulting degradants produced during the applied degradation conditions were well resolved from the peaks of pibrentasvir and glecaprevir. The utility of the proposed method was demonstrated by application to tablets containing pibrentasvir and glecaprevir combination. No interference from additives was observed. Therefore the method can be adapted in routine analysis of pibrentasvir and glecaprevir in quality control laboratories. The method can also be used for purity and degradation assessment of pibrentasvir and glecaprevir in tablets.
Keywords :

Antiviral drugs; pibrentasvir; glecaprevir; stability indicating; liquid chromatography