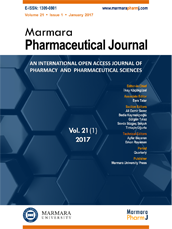 Editor-in-Chief
İlkay Küçükgüzel
Associate Editor
Aslı Türe
Online ISSN
2630-6344
Publisher
Marmara University
Frequency
Bimonthly (Six issues / year)
Abbreviation
J.Res.Pharm.
Former Name
Marmara Pharmaceutical Journal
Journal of Research in Pharmacy
2019 , Vol 23 , Issue 3
Evaluation of knowledge and attitude of pharmacist and pharmacy technicians on emergency contraception method in Istanbul, Turkey: A simulated patient study
1Department of Clinical Pharmacy, Faculty of Pharmacy, Marmara University Haydarpaşa 34668 İstanbul, Turkey
DOI :

10.12991/jrp.2019.147
Inappropriate use of drugs may contribute to therapeutic failure. Not only theoretical knowledge of pharmacists but also using this knowledge in counselling play a key role in improving compliance as far as avoiding failure. In terms of emergency contraception pill, this may lead to unwanted pregnancy. The aim of this study is to evaluate knowledge and attitude of pharmacists and pharmacy technicians on emergency contraception pills (ECP) on face to face talk by using simulated patient method. The study was conducted between March, 2015 and May, 2015 in community pharmacies located in Istanbul, Turkey. The simulated patient (SP), mystery shopper, filled in the standardized knowledge and evaluation form right after visiting each pharmacy. Main outcome measure is categorized as feature of pharmacy and consultant, questioning medical record of simulated patient, information of emergency contraception pill usage. In 115 community pharmacies included in the study, 37 (32.2%) providers were pharmacist and 78 (67.8%) were pharmacy technicians. There was no statistical difference between pharmacist and pharmacy technicians, neither pharmacists nor pharmacy technicians' performance were found high on questioning parameters, such as history of medication usage, chronic disease, history of contraception and menstruation status of SP (p>0.05), whereas the side effects of the ECP were explained more often by pharmacists in terms of profession comparison and by female consultants in terms of gender comparison (p<0.05). All these evidences underline the need to improve knowledge on emergency contraception method for both pharmacists and pharmacy technicians.
Keywords :

Emergency contraception; ulipristal acetate; pharmacist; pharmacy technician; simulated patient