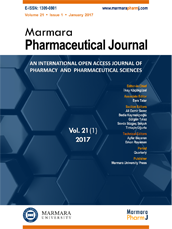 Editor-in-Chief
İlkay Küçükgüzel
Associate Editor
Aslı Türe
Online ISSN
2630-6344
Publisher
Marmara University
Frequency
Bimonthly (Six issues / year)
Abbreviation
J.Res.Pharm.
Former Name
Marmara Pharmaceutical Journal
Marmara Pharmaceutical Journal
2018 , Vol 22 , Issue 3
Cardioprotective effects of Hypericum triquetrifolium Turra. against cyclophosphamide related cardiotoxicity in rats
1Mardin Artuklu University, Vocational Higher School of Health Services, Department of Medical Services and Techniques, Mardin, Turkey
2Mardin Artuklu University, School of Health, Department of Nutrition and Dietetics, 47200 Mardin, Turkey
3Eskişehir Osmangazi University, Medical Faculty, Department of Histology and Embryology, 26480, Eskişehir, Turkey
4Eskişehir Osmangazi University, Science Faculty, Department of Biology, 26480, Eskişehir, Turkey
DOI :

10.12991/jrp.2018.77
Cyclophosphamide (CYP) is commonly used as anticancer agent but its usage is limited by cardiotoxic side effects such as dose-dependent cardiac damage, morphologically defined necrosis and bleeding. Hypericum triquetrifolium Turra. (HT) shows anti-oxidative and anticarciogenic properties with its rich phenolic contents. The current study was designed to investigate the possible protective effect of HT on CYP-induced cardiotoxicity. Albino rats were randomly divided into 9 groups, each included 7 animals. Serum creatine kinase-MB (CK-MB), malondialdehyde (MDA), aspartate transaminase (AST), glutathione (GSH), total antioxidant (TAC) and total oxidant capacity (TOC) levels were investigated. Furthermore, the cardiac tissue samples were investigated histopatologically. While the levels of serum CK-MB, MDA, AST and TOC were high, the levels of serum GSH and TAC levels were low in the CYP groups. It was also observed that CYP-induced cardiotoxicity was dose dependent. In the treatment with CYP plus HT doses there was observed an essential decrease in the CYP cardiotoxicity; decreased cell damage and oxidative stress parameters and also increased GSH and TAC levels. Based on our findings, it can be proposed that HT seed methanol extract was a strong candidate in preventing the CYP-induced cardiotoxicity.
Keywords :

Cardiotoxicity; cyclophosphamide; cardioprotective effects; Hypericum triquetrifolium Turra..