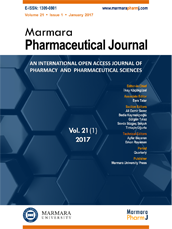 Editor-in-Chief
İlkay Küçükgüzel
Associate Editor
Aslı Türe
Online ISSN
2630-6344
Publisher
Marmara University
Frequency
Bimonthly (Six issues / year)
Abbreviation
J.Res.Pharm.
Former Name
Marmara Pharmaceutical Journal
Marmara Pharmaceutical Journal
2017 , Vol 21 , Issue 2
Antibacterial, Cytotoxicity, and Phytotoxicity Profiles of Three Medicinal Plants Collected From Pakistan
1Department of Chemistry, University of Swabi, Anbar-23561, Khyber Pakhtunkhwa, Pakistan
2Department of Biology, Science Faculty, Selcuk University, Konya, Turkey
3Laboratoire de Chimie Matériaux, FSO, Université Mohammed Ier, Oujda-60000, Morocco
4H.E.J. Research Institute of Chemistry, International Center for Chemical and Biological Sciences, University of Karachi, Karachi-75270, Pakistan
5Abdul Wali Khan Univesity Mardan, Mardan-23200, Pakistan
6Department of Microbiology and Biotechnology, University of Peshawar, Peshawar-25120, Pakistan
7Department of Botany, University of Peshawar, Peshawar-25120, Pakistan
8Department of Chemistry,The University of Jordan, Amman-11942, Jordan
9Department of Pharmaceutical Chemistry, Faculty of Pharmacy, Umm Al- Qura University, Makkah, P.O.Box 42, Saudi Arabia
10Department of Chemistry, COMSATS Institute of Information Technology, Abbottabad-22060, Pakistan
DOI :

10.12991/marupj.300335
The purpose of present research was to examine the antibacterial, cytotoxic, and phytotoxic profiles of three important Pakistani medicinal plants viz., Teucrium stocksianum, Chenopodium botrys, and Micromeria biflora. The antibacterial, cytotoxicity, and phytotoxicity activities of samples extracted from these plants were evaluated by a modified agar well-diffusion method, brine shrimps cytotoxic assay, and Lemna acquinoctialisbased phytotoxic assay, respectively. Results revealed marked susceptibility of both the crude extracts and the aqueous fractions of these plants against K. pneumonia and B. subtilis. Methanolic extracts and aqueous fractions exhibited significant cytotoxicity in a concentration-dependent manner. Similarly, an outstanding phytotoxic effect was observed for the extracts/ fractions. Accordingly, the extracts and fractions of the aforementioned plants possess potential antibacterial, cytotoxic, and phytotoxic effects which could be useful in the search and development of new pharmaceutical agents.
Keywords :

Teucrium stocksianum; Chenopodium botrys; Micromeria biflora; antibacterial activity; cytotoxicity; phytotoxicity