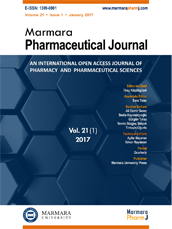 Editor-in-Chief
İlkay Küçükgüzel
Associate Editor
Aslı Türe
Online ISSN
2630-6344
Publisher
Marmara University
Frequency
Bimonthly (Six issues / year)
Abbreviation
J.Res.Pharm.
Former Name
Marmara Pharmaceutical Journal
Marmara Pharmaceutical Journal
2017 , Vol 21 , Issue 1
Cytotoxic Effect of Laurocerasus officinalis Extract on Human Cancer Cell Lines
1Karadeniz Technical University, Faculty of Health Sciences, Department of Nutrition and Dietetics, 61080, Trabzon
2Gumushane University, Faculty of Engineering and Natural Sciences, Department of Genetic and Bioengineering, 29100, Gümüşhane
3Karadeniz Technical University, Faculty of Medicine, Department of Medical Biochemistry, 61080, Trabzon
4Karadeniz Technical University, Faculty of Sciences, Department of Chemistry, 61080, Trabzon
DOI :

10.12991/marupj.259889
Laurocerasus officinalis Roem. (Prunus laurocerasus L.), also locally known as "karayemis or taflan", is a popular black summer fruit belonging to the genus Prunus and the family Rosaceae. L. officinalis exhibits numerous biological activities, such as anti-inflammatory, antinociceptive, antioxidant, neuroprotective, and antidiabetic effects. The aim of this study was to determine the total phenolic content and cytotoxic effect of dimethyl sulfoxide extract of L. officinalis (DEL). The total phenolic content and cytotoxic effect of DEL were investigated using the Folin-Ciocalteu method and thiazolyl blue tetrazolium bromide (MTT) assay, respectively. Total phenolic content value was 33.7±0.13 mg gallic acid equivalent per g sample. DEL exhibited selective cytotoxic effects against four human cancer (lung, colon, liver, and cervix) cell lines. The most selective cytotoxic effect of the extract was observed in colon cancer cells (IC50=265.2±8.1 μg/mL) compared to normal fibroblast cells. These data demonstrate that L. officinalis extract exhibits selective cytotoxicity towards some cancer cells. Further studies are now needed to clarify the molecules involved and their mechanisms.
Keywords :

Antioxidant activity, Cherry laurel, Cytotoxic effect, Laurocerasus officinalis, Polyphenolic compounds