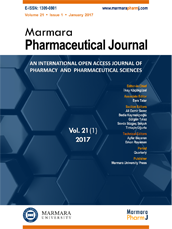 Editor-in-Chief
İlkay Küçükgüzel
Associate Editor
Aslı Türe
Online ISSN
2630-6344
Publisher
Marmara University
Frequency
Bimonthly (Six issues / year)
Abbreviation
J.Res.Pharm.
Former Name
Marmara Pharmaceutical Journal
Journal of Research in Pharmacy
2021 , Vol 25 , Issue 2
Nanocarriers for protein and peptide delivery: Recent advances and progress
1Amity Institute of Pharmacy, Amity University Uttar Pradesh, Sector-125, Noida 201313, Uttar Pradesh, India
2Department of Dentistry, Government Medical College, Haldwani, Nainital, Uttarakhand-263139, India
3Department of Pharmacy, School of Medical and Allied Sciences, Galgotias University, Plot No. 02, Sector 17-A, Greater Noida, Gautam Buddha Nagar, Uttar Pradesh, India
DOI :

10.29228/jrp.1
Proteins and peptides have been recognized as potential leads for the synthesis of novel therapeutics to treat a variety of human ailments. Unfortunately, therapeutic potential and clinical applications of these biomacromolecules are challenging due to the verge of delivery applications. Nanocarriers offer unique potential to overcome various biological barriers and improve the delivery of therapeutic biomacromolecules like proteins and peptides. A smart nanocarriers-based drug delivery system can be defined as a system that has site-specific drug delivery in a controlled manner against all the physiological barriers and finally metabolized in the body. This review describes various nanocarriers investigated for the delivery of proteins and peptides to augment their clinical applications. Various biological aspects of protein and peptide delivery have been also focused. We also summarized various patents granted for nanocarrier reported to deliver these biomacromolecules followed by a landscape presentation of marketed nano-formulations for protein and peptide delivery.
Keywords :

Biomacromolecules; nanocarriers; protein delivery; peptide delivery