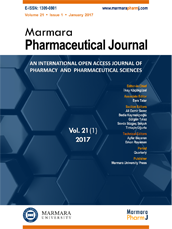 Editor-in-Chief
İlkay Küçükgüzel
Associate Editor
Aslı Türe
Online ISSN
2630-6344
Publisher
Marmara University
Frequency
Bimonthly (Six issues / year)
Abbreviation
J.Res.Pharm.
Former Name
Marmara Pharmaceutical Journal
Journal of Research in Pharmacy
2020 , Vol 24 , Issue 6
Sodium current inhibitor ranolazine ameliorates experimentally induced diabetic cardiomyopathy
1Department of Pharmacology, Anand Pharmacy College, Anand- 388001, Gujarat, India
2Alumni, Anand Pharmacy College, Anand- 388001, Gujarat, India
3Research Scholar, Anand Pharmacy College, Anand- 388001, Gujarat, India
DOI :

10.35333/jrp.2020.243
Ranolazine is an anti-ischemic drug with glucose lowering effect. Our study scrutinized the effect of ranolazine on Streptozotocin (STZ) induced diabetic cardiomyopathy, emphasizing role of Sarcoplasmic Endoplasmic Reticulum Calcium ATPase (SERCA) pump. STZ induced diabetic rats showed significant hyperglycaemia with weight loss, hyperlipidaemia, increased cardiovascular risk indices as well as atherogenic index of plasma, Left Ventricular (LV) dysfunction, abnormal electrocardiography (ECG) and elevated cardiac biomarkers (CK-MB, LDH and AST). Twelve weeks ranolazine treatment ameliorated diabetes associated biochemical alterations and LV function along with ECG. The diabetic heart showed increased lipid peroxidation and compromised antioxidant defence mechanism which was reversed by ranolazine treatment. Reduced SERCA expressions were recognised in STZ treated diabetic rats. Ranolazine amplified SERCA expressions thus by regulating intracellular calcium homeostasis and keeping diabetic cardiomyopathy at bay. Ranolazine also prevented histological alterations in the heart and pancreas. Our results may open novel avenues for designing treatment strategies using ranolazine against diabetic cardiomyopathy.
Keywords :

Diabetic cardiomyopathy; streptozotocin; ranolazine; sarcoplasmic endoplasmic reticulum calcium ATPase