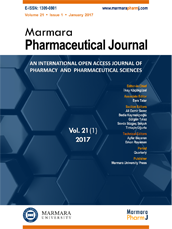 Editor-in-Chief
İlkay Küçükgüzel
Associate Editor
Aslı Türe
Online ISSN
2630-6344
Publisher
Marmara University
Frequency
Bimonthly (Six issues / year)
Abbreviation
J.Res.Pharm.
Former Name
Marmara Pharmaceutical Journal
Journal of Research in Pharmacy
2020 , Vol 24 , Issue 4
Quantification of phenolic and flavonoid contents and some biological activities of Ornithogalum sigmoideum Freyn & Sint
1Department of Pharmaceutical Toxicology, Faculty of Pharmacy, Karadeniz Technical University, Trabzon, Turkey
2Drug and Pharmaceutical Technology Application and Research Center, Karadeniz Technical University, Trabzon, Turkey
3Department of Pharmaceutical Toxicology, Faculty of Pharmacy, Ankara University, Ankara, Turkey
4Department of Pharmaceutical Botany, Faculty of Pharmacy, Ankara University, Ankara, Turkey
DOI :

10.35333/jrp.2020.197
Ornithogalum L. is a genus containing approximately 200 species that grow in warm areas of Europe, Asia and Africa. 54 of these species grow naturally in Turkey. They have been used for various medicinal purposes such as emetic and against abscess since ancient times and today consumed as food especially in the eastern region of the Black Sea. Ornithogalum species were found to be rich in cholestane glycosides, cholestane bidesmosides, cardenolide glycosides, flavonoid glycosides and saponins. According to the health-promoting effects of these compounds; we aimed to study, antioxidant, anti-inflammatory and cytotoxic effects of aerial parts and bulbs of Ornithogalum sigmoideum as well as bioactive compounds. The antioxidant activity was determined using 2,2'-azino-bis (3-ethylbenzothiazoline-6-sulphonic acid) (ABTS) and 2,2-diphenyl-1-picrylhydrazyl (DPPH) free radical scavenging assay. Anti-inflammatory activity of extracts was evaluated by the human red blood cell membrane stabilization method. Total phenolic and flavonoid contents were evaluated by Folin–Ciocalteu and aluminum chloride methods, respectively. The cytotoxic effects were evaluated on lung (A549), colorectal (HCT-116) and prostate (PC3) cancer cells using 3-(4,5-dimethylthiazol-2-yl)-2,5-diphenyltetrazolium bromide (MTT) assay. Methanolic extract of aerial part of O. sigmoideum exhibited the greatest anti-inflammatory and antioxidant activity in all methods determined. Supporting these results, the highest amounts of total phenolic and flavonoid were obtained from this extract. MTT cell viability results showed that aerial part extract of O. sigmoideum was induced cell death more than the bulb extract in every-three cell line and the PC3 cells were more sensitive than the others were. However, the calculated IC50 values of all the extracts were too high for considering as cytotoxic.
Keywords :

Antioxidant ; anti-inflammatory ; cytotoxicity ; free radical ; Ornithogalum sigmoideum