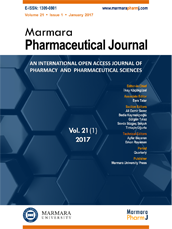 Editor-in-Chief
İlkay Küçükgüzel
Associate Editor
Aslı Türe
Online ISSN
2630-6344
Publisher
Marmara University
Frequency
Bimonthly (Six issues / year)
Abbreviation
J.Res.Pharm.
Former Name
Marmara Pharmaceutical Journal
Journal of Research in Pharmacy
2020 , Vol 24 , Issue 4
Thin layer chromatography as a simple and quick in-process tool for qualitative and semi-quantitative determination of unentrapped drugs in liposomal formulations
1Department of Pharmaceutics, Y.B Chavan College of Pharmacy, Aurangabad, India
2Department of Pharmaceutics, Y.B Chavan College of Pharmacy, Aurangabad, India
DOI :

10.35333/jrp.2020.200
Control of free or unentrapped drug is one of the key quality attributes for liposomal drug delivery systems. Conventional methodologies for estimating unentrapped drug in liposomal formulations require prior separation, which are time-consuming and complex. There is a need for a quick in-process analytical technique, which can enable monitoring of drug loading during various stages of product development and manufacturing. A novel simple and rapid TLC procedure was developed for evaluating entrapment efficiency in liposomal formulations. The method is based on differential radial migration of free and entrapped drug on silica gel TLC plates. The method can be employed either as a simple visual qualitative tool in the early screening studies or in a semi-quantitative mode for detection of free and unentrapped drugs. In case of doxorubicin hydrochloride, a deep-red coloured molecule, the method enabled free drug detection up to the levels as low as 2.5%. This method precluded the need of developing the plate further with the mobile phase. The method was used successfully in product development or as an in-process monitoring tool. The method's potential for characterizing entrapment efficiency was evaluated for less intensely coloured or UV absorbing drug candidates such as amphotericin B liposome and curcumin liposome. The preliminary results post derivatization with ninhydrin reagent or visualization under UV light indicated applicability of technique in general for liposomal delivery systems of various other drugs. According to the best of the author's knowledge, there has been no reports on the evaluation of drug entrapment using such TLC based technique so far.
Keywords :

Liposomal formulation; Unentrapped or free drug; Thin layer chromatography; Supramolecular characterization