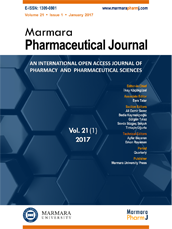 Editor-in-Chief
İlkay Küçükgüzel
Associate Editor
Aslı Türe
Online ISSN
2630-6344
Publisher
Marmara University
Frequency
Bimonthly (Six issues / year)
Abbreviation
J.Res.Pharm.
Former Name
Marmara Pharmaceutical Journal
Journal of Research in Pharmacy
2020 , Vol 24 , Issue 4
Evaluation of cholinesterase inhibitory activity of six Indonesian Cassia species
1Department of Pharmacognosy and Phytochemistry, Faculty of Pharmacy, Universitas Airlangga, Surabaya 60115, East Java, Indonesia
2Center for Natural Product Medicine Research and Development, Institute of Tropical Diseases, Universitas Airlangga, Surabaya 60115, East Java, Indonesia
3Bioscreening Unit, Department of Pharmaceutical Chemistry and Pharmacognosy, Faculty of Pharmaceutical Sciences and Center of Excellence for Innovation in Chemistry, Naresuan University, Phitsanulok, Thailand
DOI :

10.35333/jrp.2020.195
Alzheimer's disease (AD) is a neurodegenerative disorder, which is the most common cause of dementia. The aging population means that the number of people suffering from AD is expected to increase each year if there is no effective treatment found. One of the strategies for the treatment of AD is the use of cholinesterase inhibitors. Plants have been the source of many bioactive metabolites, including cholinesterase inhibitors. The objective of this study is to investigate the potency of several plant extracts from the genus Cassia as cholinesterase inhibitors. The cholinesterase inhibitory screening was carried out against two enzymes, acetylcholinesterase (AChE) and butyrylcholinesterase (BChE), according to the modified Ellman's method. The chemistry of the active fractions was studied by LC-MS/MS method. The results suggested that amongst six plant extracts from the genus Cassia investigated, the ethanolic extract of Cassia spectabilis showed the strongest inhibition against both AChE and BChE enzymes, with IC50 values of 39.5 and 36.9 μg/mL, respectively. Investigation on the n-hexane, ethyl acetate, and n-butanol fractions obtained from the C. spectabilis extract showed that the ethyl acetate and the n-butanol fractions gave better inhibitory activity compared to the n-hexane fraction. Based on the LC-MS/MS data, the two active fractions gave similar profile. Both fractions contained alkaloid cassine and spectaline, which may responsible for the cholinesterase inhibitory activity.
Keywords :

Cholinesterase inhibitor; Alzheimer's disease ; Cassia species; Cassia spectabilis