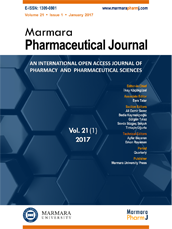 Editor-in-Chief
İlkay Küçükgüzel
Associate Editor
Aslı Türe
Online ISSN
2630-6344
Publisher
Marmara University
Frequency
Bimonthly (Six issues / year)
Abbreviation
J.Res.Pharm.
Former Name
Marmara Pharmaceutical Journal
Journal of Research in Pharmacy
2020 , Vol 24 , Issue 4
Protective effect of Caesalpinia sappan L. extract against H2O2-induced oxidative stress on HaCaT and its formulation as antioxidant cream
1Department of Pharmacy, Faculty of Life Sciences, Indonesia International Institute for Life Sciences, Jakarta, Indonesia
DOI :

10.35333/jrp.2020.199
Oxidative stress arises from excessive generation of reactive oxygen species and it is known to be the major factor that accelerates skin aging and involved in the development of skin inflammatory disorders. Therefore, there is a need to develop cosmetics products containing active ingredient with potent antioxidant effect. One of medicinal plants that is potential to be utilized as an active ingredient for cosmetics is Caesalpinia sappan L. Previous studies demonstrated the potent antioxidant activity of C. sappan in numerous in vitro scavenging free radicals assay. The present study aims to evaluate the antioxidant of C. sappan in a biological system and further formulates the extract in cream formulation. Powdered C. sappan was macerated with 96% ethanol and the dried extract was assessed for the cytotoxic and antioxidant effect on human keratinocytes cell line using MTS assay. Several cream formulations containing non-toxic concentration of C. sappan extract were made and evaluated. Cytotoxicity assay showed that C. sappan extract had an IC50 of 146.8±2.6 μg/ml. At a concentration of 15.625 μg/ml, the extract exhibited a protective effect against oxidative stress induced by H2O2 that was comparable to vitamin E. All of the formulated creams were o/w cream type, homogenous and had white-pinkish color. pH were in a range of 5.07±0.01 – 6.51±0.04 with shear-thinning properties. Following freeze-thaw cycle, the formulas were found to be stable and no significant changes were observed, except for viscosity. This study demonstrates that several cream formulations of C. sappan extract have been successfully formulated with proven antioxidant property.
Keywords :

Caesalpinia sappan L.; antioxidant; cream; cytotoxicity; human keratinocytes cell line