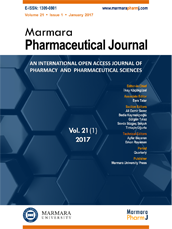 Editor-in-Chief
İlkay Küçükgüzel
Associate Editor
Aslı Türe
Online ISSN
2630-6344
Publisher
Marmara University
Frequency
Bimonthly (Six issues / year)
Abbreviation
J.Res.Pharm.
Former Name
Marmara Pharmaceutical Journal
Journal of Research in Pharmacy
2020 , Vol 24 , Issue 4
Metabolic response of Escherichia coli to subinhibitory concentration of ofloxacin
1Department of Analytical Chemistry, Faculty of Pharmacy, Hacettepe University, Ankara, Turkey
2Department of Pharmaceutical Microbiology, Faculty of Pharmacy, Hacettepe University, Ankara, Turkey
DOI :

10.35333/jrp.2020.207
Antibiotic resistance is one of the most important problems worldwide. In order to overcome antibiotic resistance, pathogen-antibiotic interactions should be investigated at molecular level. In our present study, we focused on metabolic differences in Escherichia coli (E. coli) under ofloxacin stress to understand adaptation and resistance mechanisms. We used GC/MS based metabolomics approach for metabolite identification and quantification. Experimental results showed that 17 metabolites were altered under subinhibitory concentration of ofloxacin. Pathway analysis indicated that TCA cycle, glyoxylate and dicarboxylate metabolism, biosynthesis of fatty acids, glutathione metabolism were induced by ofloxacin. Moreover, we evaluated metabolites individually and we found that spermine and L-ascorbic acid increased in ofloxacin treated groups. These metabolites are important in resistance and detoxifying processes in cells. In conclusion, altered metabolome profile gave information on adaptation and resistance processes in E. coli against ofloxacin. These metabolic changes will help to enlighten resistance mechanisms and discover novel treatment strategies against the pathogens.
Keywords :

Metabolomics; antibiotic resistance; GC/MS; MS-DIAL; TCA cycle