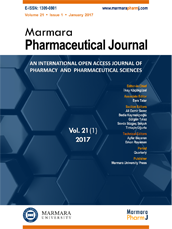 Editor-in-Chief
İlkay Küçükgüzel
Associate Editor
Aslı Türe
Online ISSN
2630-6344
Publisher
Marmara University
Frequency
Bimonthly (Six issues / year)
Abbreviation
J.Res.Pharm.
Former Name
Marmara Pharmaceutical Journal
Journal of Research in Pharmacy
2019 , Vol 23 , Issue 5
Encapsulation of paclitaxel in electrosprayed chitosan nanoparticles
1Department of Pharmaceutical Biotechnology, Faculty of Pharmacy, Ege University, Bornova 35100 İzmir, Turkey
2Department of Chemical Engineering, Faculty of Engineering, Ege University, Bornova 35100 İzmir, Turkey
DOI :

10.35333/jrp.2019.36
Paclitaxel is an anti-cancer drug, used to treat ovarian, breast and non-small-cell lung cancer among others. The low aqueous solubility of paclitaxel is a limiting factor for its application. Thus, paclitaxel is solubilized with help of surfactants and co-solvents, approved as Taxol®. Unfortunately, serious side effects like life-threatening hypersensitivity reactions and hemo-toxicity are limiting its use. Due to this, alternative formulations of paclitaxel are required. Nanoparticles represent an important approach to improve the poor solubility of drugs. In that context, electrospray for the preparation of nanoparticles is a promising approach. Due to these facts it was aimed in this study to develop and characterize paclitaxel loaded zein nanoparticles with and without the addition of chitosan. For that purpose the influence of the preparation parameters like the applied voltage and the flow rate on the characteristic properties of the particles were investigated step by step. The nanoparticles were characterized by investigating their particle size, size distribution, zeta potential, shapes and morphologies with help of dynamic light scattering, encapsulation efficiencies and AFM images, respectively. It was succeeded to prepare paclitaxel loaded zein nanoparticles without chitosan at a voltage of 22.5 kV and a flow rate of 0.2 ml/h having a particle size of 231 nm and an encapsulation effciency of 89%, while the paclitaxel loaded zein nanoparticles with chitosan had a particle size of 339 nm and an encapsulation effciency of 94%, prepared with 22.5 kV and a flow rate of 0.3 ml/h.
Keywords :

Paclitaxel; nanoparticles; electrospray; chitosan; cytotoxicity; lung cancer