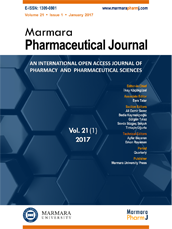 Editor-in-Chief
İlkay Küçükgüzel
Associate Editor
Aslı Türe
Online ISSN
2630-6344
Publisher
Marmara University
Frequency
Bimonthly (Six issues / year)
Abbreviation
J.Res.Pharm.
Former Name
Marmara Pharmaceutical Journal
Journal of Research in Pharmacy
2019 , Vol 23 , Issue 5
Microscopic identification of Echinops spinosus ssp.bovei (Boiss.) Murb. using multivariate tests
1Department of Pharmacy, Faculty of Medicine, Badji-Mokhtar University, Annaba, Algeria
2Department of Health Sciences, Faculty of Science, Mauritius University, 230 Réduit, Mauritius
3Natural Products Inc., Evanston, IL, 60203, USA and Faculty of Pharmacy, University of Florida, Gainesville, FL, 32610, USA
DOI :

10.35333/jrp.2019.27
The genus Echinops (Asteraceae family, Echinopeae class) comprises ca. 120 species and is native to Africa, the Middle East, Europe, and Asia. In Algeria, this genus is represented by the very common species Echinops spinosus L., also known as "Tesskra", which is used as a diuretic, hypoglycemic, liver disorders, for post-partum care, and for its stomachic effects. The aim was to generate microscopic parameters of the aerial parts which could be used to identify and authenticate Echinops powders. The present study reports, for the first time, the detailed pharmacognostic characters of the different parts of E. spinosus, through microscopic approaches, coupled with statistical techniques, to analyze the structural observations. Multivariate tests were used to determine the complex relationships among the studied variables. Fifty observations were analyzed from the leaves, flowers, and roots of E. spinosus. As a result, fourteen key microscopic features were identified and analyzed by correspondence analysis. The sclereid fibers were positively linked on the first factor (0.600, 0.591), but weakly related to the second factor (0.090, 0.004). It is proposed that microscopic analysis, coupled with statistical analysis, could provide a simple platform for medicinal plant identification. This will be of particular importance for the rapid identification of medicinal plant powders used as a medicinal agent, and may be helpful in developing pharmacopoeial standards for traditional medicines in Africa.
Keywords :

Echinops; Algeria; pharmacognostic; parameters; microscopy