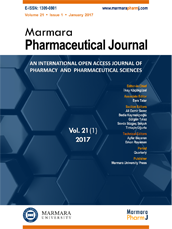 Editor-in-Chief
İlkay Küçükgüzel
Associate Editor
Aslı Türe
Online ISSN
2630-6344
Publisher
Marmara University
Frequency
Bimonthly (Six issues / year)
Abbreviation
J.Res.Pharm.
Former Name
Marmara Pharmaceutical Journal
Journal of Research in Pharmacy
2019 , Vol 23 , Issue 5
Preparation, characterization and evaluation of solid lipid nanoparticles and niosomes for ING4 gene delivery to MCF-7 cells
1Department of Pharmaceutical Biotechnology, Faculty of Pharmacy, Ege University, İzmir, Turkey
2Department of Pharmaceutical Biotechnology, Faculty of Pharmacy, Marmara University, Haydarpaşa 34668 İstanbul, Turkey
DOI :

10.35333/jrp.2019.40
In this study, we aimed to develop lipid-based delivery systems for ING4 gene. For this purpose, we chose solid lipid nanoparticle (SLN) and niosome formulations for their advantages in several ways. SLNs were prepared via hot microemulsion method with slight modifications. Niosomes were prepared by using thin film hydration method. Both of those formulations contain cationic lipids for the purpose of gaining positive charge. Thus, complexation with ING4 gene carrier plasmid DNA is conducted via electrostatic interactions. DLS measurements showed us both of those formulations have appropriate zeta potential for complexation which is above 30 mV. Average particle size of SLNs is 9.76±0.13 nm. Vesicle size of niosomes is 483.2 ± 20.19 nm. Both of those formulations can be considered nano-sized delivery systems. Reliability of those values were supported with TEM imaging. DNA protection ability of those formulations were observed in serum stability study. After characterization studies, cytotoxic effect of those delivery systems was evaluated on MCF-7 cell lines.
Keywords :

ING4; solid lipid nanoparticles; niosomes; gene delivery