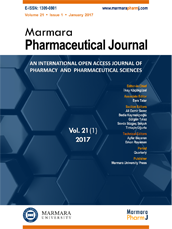 Editor-in-Chief
İlkay Küçükgüzel
Associate Editor
Aslı Türe
Online ISSN
2630-6344
Publisher
Marmara University
Frequency
Bimonthly (Six issues / year)
Abbreviation
J.Res.Pharm.
Former Name
Marmara Pharmaceutical Journal
Journal of Research in Pharmacy
2019 , Vol 23 , Issue 5
Class I histone deacetylase inhibition by aryl butenoic acid derivatives: In silico and in vitro studies
1Department of Medical Biology, Faculty of Medicine, Hacettepe University, Ankara, Turkey
2Department of Pharmaceutical Chemistry, Faculty of Pharmacy, Hacettepe University, Ankara, Turkey
3Department of Basic Pharmaceutical Sciences, Faculty of Pharmacy, Hacettepe University, Ankara, Turkey
DOI :

10.35333/jrp.2019.42
Histone deacetylases (HDAC) are evolutionary conserved enzymes, which catalyze removal of acetyl groups from histone and non-histone proteins, therefore, control multiple biological processes. Inhibition of their activities have been investigated to modify gene expression and/or protein functions not only for treatment of certain diseases but also for understanding functions of deacetylase isoforms. We previously synthesized aryl butenoic acid derivatives and identified their pan-HDAC inhibition activities. In this study, we investigated selective inhibition activities of these derivatives (C1, C3, C4) on class I HDACs using in silico and in vitro approaches. Molecular docking studies of the three aryl butenoic acid derivatives were performed on the crystal structures of HDAC 1, 2, 3 and 8, which were obtained from RCSB protein databank, using Glide software. In vitro inhibition activities of the compounds at two different concentrations were tested using fluorometric assay. In silico results indicated that all the compounds showed higher affinity to HDAC 1 and 8 than other class I deacetylases. In vitro analysis showed that the compounds inhibit HDAC 8 more effectively than HDAC 1. It was shown that C1 had higher binding affinity and inhibition activity to both enzymes. We concluded that, C1 inhibited both HDAC 1 and 8, however, C3 and C4 showed slight selectivity for HDAC 8 over HDAC 1, which was in agreement with the docking studies. Further cell culture studies will be valuable to determine increased acetylation on target proteins in response to compound treatment.
Keywords :

Histone deacetylase inhibitors; aryl butenoic acid derivatives; molecular docking; in vitro activity screening