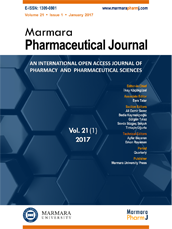 Editor-in-Chief
İlkay Küçükgüzel
Associate Editor
Aslı Türe
Online ISSN
2630-6344
Publisher
Marmara University
Frequency
Bimonthly (Six issues / year)
Abbreviation
J.Res.Pharm.
Former Name
Marmara Pharmaceutical Journal
Journal of Research in Pharmacy
2019 , Vol 23 , Issue 5
Leaf anatomical traits of Crataegus orientalis Pall. ex M.Bieb. (Rosaceae) from Turkey
1Department of Pharmaceutical Botany, Faculty of Pharmacy, İstanbul University, 34116, İstanbul, Turkey
DOI :

10.35333/jrp.2019.28
Crataegus orientalis Pall. ex M.Bieb., is a widespread species of the genus Crataegus L. (Rosaceae), which has an important place in traditional folk medicine. In this study, Crataegus orientalis subsp. orientalis and Crataegus orientalis subsp. szovitsii (Pojark.) K.I.Chr. from Turkey were investigated with regard to leaf anatomy. For this reason, transverse sections and surficial sections were taken from samples. Leaves of the both taxa was found as dorsiventral, hypostomatic and mesomorphic. Cyclocytic type stomata, simple single non-glandular trichomes and calcium oxalate crystals were defined as significant anatomical features of these taxa. All results were compared with leaf anatomical features of the Rosaceae family and the characteristics of the genus Crataegus were elucidated by detecting similarities and differences.
Keywords :

Crataegus orientalis; Rosaceae; leaf anatomy; Turkey