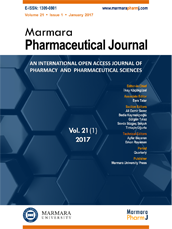 Editor-in-Chief
İlkay Küçükgüzel
Associate Editor
Aslı Türe
Online ISSN
2630-6344
Publisher
Marmara University
Frequency
Bimonthly (Six issues / year)
Abbreviation
J.Res.Pharm.
Former Name
Marmara Pharmaceutical Journal
Journal of Research in Pharmacy
2019 , Vol 23 , Issue 5
Formulation, stability and analytical method validations of combined St. John's wort and valerian root dry extracts in solid oral dosage forms
1Center of Education, Practice and Research in Phytotherapy, Bezmialem Vakıf University, 34093 Fatih, İstanbul, Turkey
2Department of Pharmaceutical Chemistry, Faculty of Pharmacy, Marmara University, 34668 Haydarpaşa, İstanbul, Turkey
DOI :

10.35333/jrp.2019.29
Minor depression and sleep disorders are common problems in modern societies. There are prescription medicines and herbal remedies to ease the symptoms. St. John's wort is often used to treat mild depression and valerian root is recommended as a sedative for centuries. Nowadays there is an increasing interest for herbal medicines and therefore the herbal products are becoming more and more popular. As dietary supplement retailers selling low quality products -or even don't contain what's claimed on the label- quality becomes the major concern. The legislation to conventional medicines applies to traditional herbal medicines too, which makes registered herbal medicines reliable in production and quality. A CTD application dossier which contains quality data in module 3 should be provided while registering a herbal medicine in EU. In this study we developed a stable formulation and validated two separate methods to quantify the herbal extract amounts in solid oral dosage forms which contains St. John's Wort and valerian dry extract as active ingredients to comply CTD module 3 requirements.
Keywords :

St. John's Wort; valerian; validation; formulation; stability