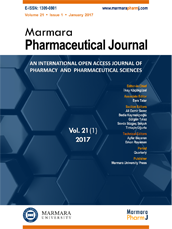 Editor-in-Chief
İlkay Küçükgüzel
Associate Editor
Aslı Türe
Online ISSN
2630-6344
Publisher
Marmara University
Frequency
Bimonthly (Six issues / year)
Abbreviation
J.Res.Pharm.
Former Name
Marmara Pharmaceutical Journal
Journal of Research in Pharmacy
2019 , Vol 23 , Issue 4
Formulation, stability and analytical method validation of chasteberry (Vitex agnus-castus L.) extract in solid oral dosage forms
1Center of Education, Practice and Research in Phytotherapy, Bezmialem Vakıf University, 34093 Fatih, İstanbul, Turkey
2Department of Pharmaceutical Chemistry, Faculty of Pharmacy, Marmara University, 34668 Haydarpaşa, İstanbul, Turkey
DOI :

10.12991/jrp.2019.177
Premenstrual syndrome (PMS) is a common condition that affects 90% of menstruating women on emotions, behaviours and physical health. Vitex agnus-castus L. also known as chasteberry or chaste tree is long being used for its health benefits on feminine problems like PMS and hyperprolactinemia. There are also some prescription medicines to ease the symptoms of PMS. While dietary supplements containing medicinal plants could be found everywhere with the lack of quality and standardisation, there are only a few registered traditional herbal medicinal products available on the market containing agnus-castus fruit extract. In this study we developed a stable film coated oral formulation and fully validated the analytical methods to quantify the extract in dosage forms to fulfil the requirements of CTD module 3 while registering the traditional herbal medicinal product according to European Union legislations.
Keywords :

Chasteberry; Vitex agnus-castus; validation; formulation; stability