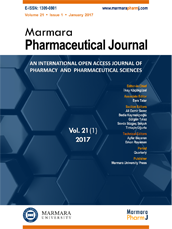 Editor-in-Chief
İlkay Küçükgüzel
Associate Editor
Aslı Türe
Online ISSN
2630-6344
Publisher
Marmara University
Frequency
Bimonthly (Six issues / year)
Abbreviation
J.Res.Pharm.
Former Name
Marmara Pharmaceutical Journal
Journal of Research in Pharmacy
2019 , Vol 23 , Issue 3
The effects of riboflavin on ischemia/reperfusion induced renal injury: Role on caspase-3 expression
1Department of Pharmacology, Faculty of Pharmacy, Marmara University, Haydarpaşa 34668 İstanbul, Turkey
2Department of Pharmacology, Faculty of Pharmacy, Trakya University, 22030 Edirne, Turkey
3Department of Medical Pathological Techniques, Vocational School of Health Services, Marmara University, İstanbul, Turkey
4Department of Histology & Embryology, School of Medicine, Marmara University, Maltepe 34854 Istanbul, Turkey
5Department of Biochemistry, School of Medicine, Adnan Menderes University, 09010 Aydin, Turkey
6Department of Urology, School of Medicine, Marmara University, Maltepe 34854 Istanbul, Turkey
DOI :

10.12991/jrp.2019.145
Reactive oxygen metabolites play important roles in ischemia/reperfusion (I/R) injury in several organ systems. Riboflavin has been shown to exert antioxidant and/or anti-inflammatory activities in several experimental models. The aim of this study was to investigate the role of riboflavin against I/R injury in the rat kidney. Wistar albino rats 200-300 g weighing were divided into 3 groups. One week after unilateral nephrectomy, the IR procedure was applied to the rats. To induce I/R injury renal pedicle was clamped for 45 minutes and then rats were allowed reperfusion for 6 hours. Riboflavin (25 mg/kg, orally) or vehicle was administered for one week as pretreatment. After decapitation, kidney tissue samples were taken for the evaluation of malondialdehyde (MDA), an end product of lipid peroxidation; glutathione (GSH), a key antioxidant; and 8-hydroxydeoxyguanosine (8-OHdG), a specific marker of oxidative DNA damage. Furthermore, myeloperoxidase (MPO) and caspase-3 activities were also examined together with histological analysis. Ischemia/reperfusion induced significant increases in MDA and 8-OHdG levels and MPO and caspase- 3 activities, and decrese in GSH levels. In the riboflavin treatment these indices were found to be reversed back to control levels. The present data demonstrated that riboflavin, through its antioxidant effect, attenuates I/R induced acute renal injury in rats.
Keywords :

Antioxidants; ischemia reperfusion; riboflavin; caspase