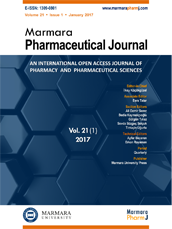 Editor-in-Chief
İlkay Küçükgüzel
Associate Editor
Aslı Türe
Online ISSN
2630-6344
Publisher
Marmara University
Frequency
Bimonthly (Six issues / year)
Abbreviation
J.Res.Pharm.
Former Name
Marmara Pharmaceutical Journal
Marmara Pharmaceutical Journal
2017 , Vol 21 , Issue 3
Metabolite Production and Antibacterial Activities of Callus Cultures from Rosa damascena Mill. Petals
1Suleyman Demirel University, Faculty of Arts and Sciences, Department of Biology
2Suleyman Demirel University, Faculty of Agriculture, Department of Agricultural Biotechnology
DOI :

10.12991/marupj.319331
Rosa damascena Mill. is a very fragrant member of Rosaceae family, exhibiting strong antioxidant and antimicrobial activity. In this study, in vitro cell cultures from Rosa damascena Mill. flower petals were established and the effects of precursor L-phenylalanine, the elicitor methyl jasmonate and light/dark treatments on the accumulation of characteristic rose volatile compounds, tocopherols and β-carotene in addition to the antibacterial activity of petal callus extracts were investigated with Solid-Phase Microextraction Combined with Gas Chromatography–Mass Spectrometry (GC–MS). The amount of β-pinene increased by 236 times when 500 μM Phe was added to the culture medium or under light treatment. Strong antibacterial activity from petal callus extracts, up to 2.6- fold compared to amikacin as well as original petal tissues, was obtained under dark treatment for P. aeruginosa ATCC 27853 and S. aureus ATCC 25923. These results revealed that petal callus extracts are sources of natural antioxidants and antibacterial compounds.
Keywords :

Rosa damascena Mill., flower petals, callus, secondary metabolite, antibacterial activity