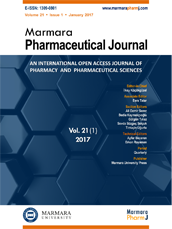 Editor-in-Chief
İlkay Küçükgüzel
Associate Editor
Aslı Türe
Online ISSN
2630-6344
Publisher
Marmara University
Frequency
Bimonthly (Six issues / year)
Abbreviation
J.Res.Pharm.
Former Name
Marmara Pharmaceutical Journal
Marmara Pharmaceutical Journal
2017 , Vol 21 , Issue 3
Trace Element Content and Antioxidant Capacity of Gluten Free Snacks Produced for Coeliac Disease Patients
1Department of Analytical Chemistry, Faculty of Pharmacy, Ege University, 35100, Bornova, Izmir, Turkey
DOI :

10.12991/marupj.323284
Trace element levels and antioxidant capacities of different gluten-free snacks were investigated in this study. Samples were digested by using microwave system. Na, Mg, K, Ca, Fe, Zn, Cu and Mn levels were determined by inductively coupled plasma mass spectrometry. Cupric reducing antioxidant capacity and 2,2-diphenyl-1-picrylhydrazyl radical scavenging capacity methods were used to evaluate antioxidant capacity. Na, Mg, K, Ca, Fe, Zn, Cu and Mn levels were found in the range of 43.77 – 4905 mg/kg, 47.15 – 751 mg/kg, 44.84 – 2156 mg/kg, 95.29 – 1616 mg/kg, 69.70 – 144 mg/kg, 5.92 – 41.28 mg/kg, 3.57 – 13.25 mg/kg and 5.20 – 12.06 mg/kg, respectively. The highest antioxidant capacity value was obtained from orange bar in both antioxidant capacity assays.
Keywords :

Coeliac disease, Snack, Trace element, Antioxidant