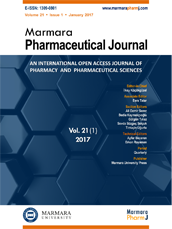 Editor-in-Chief
İlkay Küçükgüzel
Associate Editor
Aslı Türe
Online ISSN
2630-6344
Publisher
Marmara University
Frequency
Bimonthly (Six issues / year)
Abbreviation
J.Res.Pharm.
Former Name
Marmara Pharmaceutical Journal
Marmara Pharmaceutical Journal
2017 , Vol 21 , Issue 3
Protoscolicidal Effects and Acute Toxicity of Essential Oil and Methanolic Extract of Cuminum cyminum Seeds
1Research Center for Hydatid Disease in Iran, Kerman University of Medical Sciences, Kerman, Iran
2Razi Herbal Medicine Research Center, Lorestan University of Medical Sciences, Khorramabad, Iran
DOI :

10.12991/marupj.319204
Surgical treatments were the gold standard for treatment of cystic echinococcosis (CE) until the last 30 years. Existing scolicidal agents such as hypertonic saline and silver-nitrate which have been used for inactivation of protoscoleces during surgery are associated with some serious adverse effects. The present study was designed to investigate in vitro scolicidal activity of Cuminum cyminum L. against protoscoleces of hydatid cysts and its acute toxicity in mice model. Protoscoleces were aseptically aspirated from sheep livers having hydatid cysts. Various concentrations of the essential oil (12.5- 100 μl/mL) and methanolic extract (12.5-100 mg/mL) were used for 5 to 60 min. Viability of protoscoleces was confirmed using eosin exclusion test (0.1% eosin staining). Moreover, thirty-two male NMRI mice were used to determine the acute toxicity of C.cyminum. C. cyminum methanolic extract at the concentrations of 100 and 50 mg/ml killed 100% protoscoleces after 10 and 20 minutes exposure. Moreover, all protoscoleces were killed upon 10 and 20 minutes of exposure to 50 and 25 μl/mL C. cyminum essential oil, respectively. The essential oil demonstrated no mortality up to the dose of 1 ml/kg, but 25% mortality at dose of 2ml/kg was occurred. The methanolic extract showed no mortality up to the dose of 4 g/kg. The obtained results indicated the potent scolicidal activity of C. cyminum with no significant toxicity which might be used as a natural scolicidal agent in hydatid cyst surgery. However, further investigation will be needed to confirm these results by checking in a clinical setting as a new scolicidal agent.
Keywords :

Cumin; scolicidal effects; cystic echinococcosis; hydatid cyst; toxicity