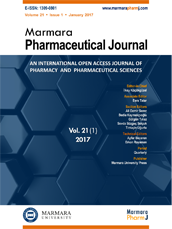 Editor-in-Chief
İlkay Küçükgüzel
Associate Editor
Aslı Türe
Online ISSN
2630-6344
Publisher
Marmara University
Frequency
Bimonthly (Six issues / year)
Abbreviation
J.Res.Pharm.
Former Name
Marmara Pharmaceutical Journal
Marmara Pharmaceutical Journal
2017 , Vol 21 , Issue 3
Investigation of Antioxidant and Enzyme Inhibition Activities and Phenolic Compound of Medicago rigidula (L.) All.
1Aksaray Üniversitesi, Fen Edebiyat Fakültesi, Biyoteknoloji ve Moleküler Biyoloji Bölümü, Aksaray, Türkiye
2Selçuk Üniversitesi, Fen Fakültesi, Biyoloji Bölümü, Konya, Türkiye
DOI :

10.12991/marupj.311816
The study focused on evaluating of antioxidant capacity, phenolic compounds and enzyme inhibition activity of methanolic extract Medicago rigidula. Antioxidant activity was evaluated using different assays including 2,2-diphenyl-1- pikrylhydrazyl (DPPH), ferric ion reducing antioxidant power (FRAP), cupric ion reducing antioxidant capacity (CUPRAC) and total antioxidant capacity (phosphomolybdenum) test. Total phenolic and flavonoit contents were also determined. Enzyme inhibition activities were examined against anticholinesterase, tyrosinase, alpha-amylase and alphaglucosidase. Phenolic content of M. rigidula included catechin, cinnamic, chlorogenic, gallic and syringic acids. Free radical scavenging activity of methanol extract was 20.30% at 1 mg/ mL concentration. In phosphomolybdenum and FRAP tests were found 167.27 mg AAE/g and 67.01 mg TE/g, respectively. Total phenolic and flavonoid contents were determined as 79.61 mg GAE/g and 27.38 μg QE/g, respectively. The results showed that M. rigidula has a good source of antioxidants and enzyme inhibition capacity. Thus, it can be used as raw material in food and pharmaceutical industry.
Keywords :

Chemical composition, bioactivity, HPLC analysis, Fabaceae