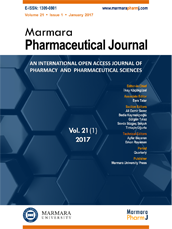 Editor-in-Chief
İlkay Küçükgüzel
Associate Editor
Aslı Türe
Online ISSN
2630-6344
Publisher
Marmara University
Frequency
Bimonthly (Six issues / year)
Abbreviation
J.Res.Pharm.
Former Name
Marmara Pharmaceutical Journal
Marmara Pharmaceutical Journal
2017 , Vol 21 , Issue 2
New-Generation Jeffamine® D230 Core Amine, TRIS and Carboxylterminated PAMAM Dendrimers: Synthesis, Characterization and the Solubility Application for a Model NSAID Drug Ibuprofen
1Department of Basic Pharmaceutical Sciences, Faculty of Pharmacy, Adıyaman University, 02040, Adıyaman, Turkey
2Department of Chemistry, Yıldız Technical University, 34210, Istanbul, Turkey
DOI :

10.12991/marupj.300924
Many therapeutically active drugs are poor water soluble and, therefore, bioavailability of these molecules in the living cells is low and a major problem. In this study, new-generation Jeffamine® D230 core, amine (NH2), Tris(hydroxymethyl) aminomethane (TRIS), and carboxyl (COOH) terminated poly(amidoamine) PAMAM dendrimers (PAMAMs) were synthesized. Synthesized new-generation PAMAMs were characterized by 1H NMR, 13C NMR, ATR-FTIR, and investigated as solubility enhancer of a sample non-steroidal anti-inflammatory drug (NSAID) Ibuprofen (IBU). The effect of generation size (D2-D4), concentration (0-2.0 mM), and surface functional group (NH2, COOH, TRIS) of the synthesized new-generation PAMAMs on the aqueous solubility of IBU was also investigated. The observed solubility enhancement of IBU was in the order of D4.COOH (18.21 mg/mL)> D3.COOH (13.21 mg/mL)> D4.TRIS (10.30 mg/mL)> D2.COOH (8.55 mg/mL)> D3.TRIS (6.04 mg/mL)> D4.NH2 (4.56 mg/mL)> D3.NH2 (3.36 mg/mL)> D2.TRIS (2.42 mg/mL)> D2.NH2 (1.86 mg/mL). Results showed that synthesized PAMAMs improved the solubility of IBU significantly (30 to 247-fold) with an increasing generation size, and concentration.
Keywords :

Dendrimers, poly (amidoamine) PAMAM, Jeffamine, drug carrier, NSAID, ibuprofen