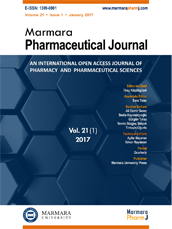 Editor-in-Chief
İlkay Küçükgüzel
Associate Editor
Aslı Türe
Online ISSN
2630-6344
Publisher
Marmara University
Frequency
Bimonthly (Six issues / year)
Abbreviation
J.Res.Pharm.
Former Name
Marmara Pharmaceutical Journal
Marmara Pharmaceutical Journal
2017 , Vol 21 , Issue 1
Topical Approaches to Cellulite
1T.C. Sağlık Bakanlığı Türkiye İlaç ve Tıbbi Cihaz Kurumu, Çankaya/Ankara
DOI :

10.12991/marupj.259881
Today, topical application of pharmacologically active chemicals and local application of physical, mechanical and thermal methods are available in order to eliminate cellulite which is an aesthetic problem that affects the majority of women. Many products on natural or synthetic originated anti-cellulite active ingredients have been developed with topical application studies performed on cellulite developed parts. Formulations developed against cellulite are usually in the form of gel, emulsion, cream, lotion or foam. In recent years the use of pharmaceutical delivery systems have become important in order to increase the penetration into the skin, to provide access to layers, to show activity, to regulate the release, to enhance the stability and to reduce the adverse effects of the active ingredients in these formulations. The use of liposomes, phytosomes, ethosomes and nanosomes which are the vesicular carriers of the carrier systems has drawn attention in both researches and existing products. Methods for measuring the performance of anti-cellulite products and efficacy evaluation for research and development of existing products are available with non-invasive device tool analysis. The use of anti-cellulite topical formulations has become widespread with cost advantages and it is expected that these formulations will develop and become diversified and spread more with both scientific and technological progress.
Keywords :

Cellulite, topical applications, herbal actives, pharmaceutical delivery systems, efficacy evaluation