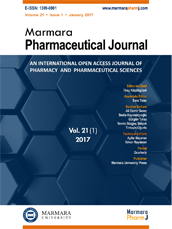 Editor-in-Chief
İlkay Küçükgüzel
Associate Editor
Aslı Türe
Online ISSN
2630-6344
Publisher
Marmara University
Frequency
Bimonthly (Six issues / year)
Abbreviation
J.Res.Pharm.
Former Name
Marmara Pharmaceutical Journal
Marmara Pharmaceutical Journal
2017 , Vol 21 , Issue 1
Investigation of Patients" Attitudes Regarding Drug Use Before Application to Dental Clinics
1İstanbul Aydın Üniversitesi, Diş Hekimliği Fakültesi, Periodontoloji Ana Bilim Dalı, İstanbul
2Marmara Üniversitesi, Tıp Fakültesi, Tıbbi Farmakoloji Ana Bilim Dalı, İstanbul
3İstanbul Aydın Üniversitesi, Diş Hekimliği Fakültesi, İstanbul
DOI :

10.12991/marupj.259894
Patients" approaches are crucial at rational use of medicine (RU M). Irrational pharmacotherapy is common problem both in Turkey and worldwide. There is limited research about RU M in dentistry. In this research, it was aimed to evaluate the patients" attitudes regarding their drug utilization for dental problems. Surveys were conducted with 139 patients who applied to dental clinics (DCs) at a dentistry faculty (DF) or an oral-dental health center (ODHC). Answers were compared to DF and ODHC groups. Some respondents (29.3%) stated that they used medication before application to DCs, 77.5% of them used analgesic and 15.0% of them used antibiotic. Nearly half of the participants (47.3%) stated they did not consult anyone and 25.0% of them declared that they contacted with their dentist before using medicines that contain in their home for dental reasons. In case of periodontal problems with accompanying systemic disease which includes fatigue and fever; %14.2 of the participants declared the use of antibiotics even without oral examination, %11.7 of respondents would start antibiotics but stop taking them when they feel better. Drug use before application to DCs is higher in ODHC group. While those who received non-drug treatment for dental problems in the last year is higher in DF group (p<0,05). Although there are some differences among the applicants of clinics, it is certain that patients have some attitudes associate with irrational pharmacotherapy. Self-medication of some drugs especially antibiotics is a remarkable drawback. These should be taken into consideration while planning RU M activities in dentistry.
Keywords :

Rational use of drug, Dentistry, Dental, Survey