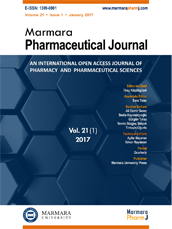 Editor-in-Chief
İlkay Küçükgüzel
Associate Editor
Aslı Türe
Online ISSN
2630-6344
Publisher
Marmara University
Frequency
Bimonthly (Six issues / year)
Abbreviation
J.Res.Pharm.
Former Name
Marmara Pharmaceutical Journal
Marmara Pharmaceutical Journal
2017 , Vol 21 , Issue 1
Dietary Supplements for Hypertension and Diabetes
1Marmara Üniversitesi Eczacılık Fakültesi, Haydarpaşa, 34668 İstanbul, Türkiye
2Marmara Üniversitesi Eczacılık Fakültesi, Farmakoloji Anabilim Dalı, Haydarpaşa, 34668 İstanbul, Türkiye
DOI :

10.12991/marupj.259876
Various vitamins and herbal preparations are used as dietary supplements nowadays. In addition to pharmacological treatment in order to cure chronic diseases such as obesity, type-2 diabetes, hypertension and cholesterol, the use of dietary supplements was initiated and the became more common in time. It"s possible to experience some deficiencies with regard to absorption or storage of the vitamins due to aging. And as a result, several problems such as chronic infection and increase in oxidative stress or immune system disorders might occure.

Obesity poses a central health problem due to the risk of type- 2 diabetes and other comorbidities. Studies show significant proofs towards the benefits of zinc lipoic acid, carnitine, cinnamon, green tea, vitamin C and E taken through nutrition. Therefore, nutriments rich in antioxidant are recommended to be consumed as a part of the lifestyle and nutritional routine. Additionally, significant effect of polyglycoplex on the body weight has been proven. Moreover, it has also been shown that polyglycoplex taken through nutrition also leads to significant amount of decrease in total and LDL cholesterol levels.

Supplementary and alternative medicine are commonly benefited by the people for the treatment of medical conditions such as hypertension, cardiovascular diseases, coronary failure and hyperlipidemia. Various studies are available in the literature regarding these diseases. However, while combined use is recommended in some studies, it"s suggested that there are no effects or placebo effects. Thus, it"s claimed that the scientific proof aren"t sufficient enough to prove effectiveness and safety of the products used. It"s believed that conducting new research on the topic could be useful.
Keywords :

Diabetes, Hypertension, Dietary supplements