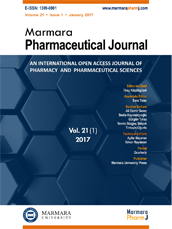 Editor-in-Chief
İlkay Küçükgüzel
Associate Editor
Aslı Türe
Online ISSN
2630-6344
Publisher
Marmara University
Frequency
Bimonthly (Six issues / year)
Abbreviation
J.Res.Pharm.
Former Name
Marmara Pharmaceutical Journal
Marmara Pharmaceutical Journal
2017 , Vol 21 , Issue 1
Formulation Design and In Vitro Evaluation of Carbamazepine Gastroretentive Floating Drug Delivery System for Oral Application
1Department of Pharmacy, Noakhali Science and Technology University, Noakhali-3814, Bangladesh
2Department of Pharmaceutical Technology, University of Dhaka, Bangladesh
DOI :

10.12991/marupj.259882
The aim of the study was to investigate the uses of hydrophilic polymers i.e. Methocel K4M and Carbomer 971 to develop a gastroretentive floating drug delivery system containing Carbamazipine as a model drug. The effect of the polymers was evaluated in terms of physical characteristics, swelling properties, floating behavior and drug release profile. Floating lag time was found to be 4-136 sec and total floating time was 6-18 h depending on the formulations. Drug release was studied for 8 h. Simulated drug release pattern in different kinetic model suggests that the mechanism controlling of the drug release from all formulations was the anomalous or non-Fickian. Along with more swelling capacity, carbopol 971 was able to retard the drug release more effectively than that of Methocel K4M based matrix.
Keywords :

Carbamazepine, Methocel K4M, Carbopol 971, Buoyancy, GRDDS