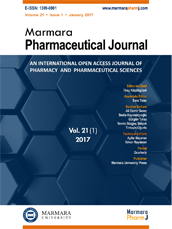 Editor-in-Chief
İlkay Küçükgüzel
Associate Editor
Aslı Türe
Online ISSN
2630-6344
Publisher
Marmara University
Frequency
Bimonthly (Six issues / year)
Abbreviation
J.Res.Pharm.
Former Name
Marmara Pharmaceutical Journal
Marmara Pharmaceutical Journal
2017 , Vol 21 , Issue 1
Cytotoxicity of Triterpenes From the Leaves of Garcinia Prainiana King (Guttiferae)
1Department of Chemistry, Faculty of Science, Universiti Teknologi Malaysia (UTM), 81310 Johor Bahru, Johor, Malaysia
2Kulliyyah of Pharmacy, International Islamic University Malaysia, Jalan Sultan Ahmad Shah, Bandar Indera Mahkota, 25200, Kuantan, Pahang, Malaysia
DOI :

10.12991/marupj.259890
Phytochemical investigation of the leaves of Garcinia prainiana resulted in the isolation of five triterpenes identified as squalene 1, friedelin 2, lupeol 3, 3β-hydroxyeupha-5,22-diene 4, and 3β-acetoxyeupha-5,22-diene 5. The structures of these compounds were established by analysis of their spectroscopic data, as compared to that of reported compounds. All compounds were tested for cytotoxicity against H1299 and A549 lung cancer cell lines using MTT assay. 3β-Acetoxyeupha-5,22- diene 5 exhibited the most significant activity against human non-small cell lung carcinoma cell lines, H1299 and A549 with IC50 values 18.0 μg/mL and 36.3 μg/mL, respectively.
Keywords :

Triterpene, Garcinia prainiana, Cytotoxicity