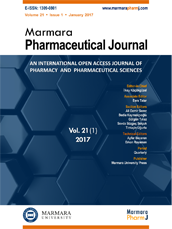 Editor-in-Chief
Hatice Kübra Elçioğlu
Vice Editors
Levent Kabasakal
Esra Tatar
Online ISSN
2630-6344
Publisher
Marmara University
Frequency
Bimonthly (Six issues / year)
Abbreviation
J.Res.Pharm.
Former Name
Marmara Pharmaceutical Journal
Marmara Pharmaceutical Journal
2010 , Vol 14 , Issue 1
4-Aminobenzohidrazit hidrazonlarından türetilmiş bazı yeni tiyoürelerin sentezi, antiviral, antitüberküler ve antikanser etkilerinin değerlendirilmesi
1Marmara University, Faculty of Pharmacy, Department of Pharmaceutical Chemistry, İstanbul, Türkiye
2Katholieke Universiteit Leuven, Rega Institute for Medical Research, Leuven, Belçika
3Yeditepe University, Faculty of Engineering and Architecture, Genetics and Bioengineering Department, İstanbul, Türkiye
DOI :

10.12991/201014460
Bazı yeni 1-[4-[[2-[(4-sübstitüe fenil)metilen]hidrazino]karbonil]fenil]-3-sübstitüe tiyoüre türevleri, 4-aminobenzoik asit hidraziti ile 4-fluorobenzaldehit veya 4-(trifluorometil)benzaldehit'in kondensasyonundan elde edilen 4- amino-N'-[(4-sübstitüe fenil) metilen]benzoik asit hidrazitinin sübstitüe aril izotiyosiyanatlara katımı ile sentezlendi. Sentezlenen tüm bileşiklerin in vitro olarak MT-4 hücre kültüründe HIV-1 (IIIB) ve HIV-2 (ROD) suşlarına karşı, HeLa, Vero, HEL ve E6SM hücre kültürü ortamlarında HSV-1, HSV-2, Coxsackie B4, Sindbis ve varicella-zoster virüslerine karşı antiviral etkinlikleri ; Mycobacterium tuberculosis H37 Rv suşuna karşı ise antimikobakteriyel etkinlikleri değerlendirilmiştir. Sözkonusu bileşiklerin antikanser ve sitotoksik etki taramaları A 549 and L 929 hücre kültürü ortamlarında belirlenmiştir.
Keywords :

Hidrazon, Tiyoüre, Antiviral aktivite, Antikanser aktivite, Mycobacterium tuberculosis H37Rv