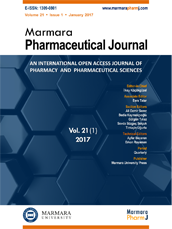 Editor-in-Chief
Hatice Kübra Elçioğlu
Vice Editors
Levent Kabasakal
Esra Tatar
Online ISSN
2630-6344
Publisher
Marmara University
Frequency
Bimonthly (Six issues / year)
Abbreviation
J.Res.Pharm.
Former Name
Marmara Pharmaceutical Journal
Journal of Research in Pharmacy
2021 , Vol 25 , Issue 4
Synthesis, characterization and biological evaluation of 1,3-thiazolidine-4-ones derived from (2S)-2-benzoylamino-3-methylbutanohydrazide hydrazones
1Marmara University, Faculty of Pharmacy, Department of Pharmaceutical Chemistry, Haydarpaşa 34668 İstanbul, Turkey
2İstanbul University, Faculty of Pharmacy, Department of Pharmaceutical Microbiology, Beyazıt 34116 İstanbul, Turkey
3İstanbul Health and Technology University, Faculty of Pharmacy, Department of Pharmaceutical Microbiology, İstanbul, Turkey
4Rega Institute for Medical Research, Katholieke Universiteit Leuven, 3000 Leuven, Belgium
5Department of Biochemistry and Molecular Biology, UMDNJ-New Jersey Medical School, 185 South Orange Avenue, Newark, NJ 07103, USA
DOI :

10.29228/jrp.41
Novel 2-aryl-5-non-substituted / methyl-1,3-thiazolidine-4-one derivatives 14-33 carrying L-valine core were synthesized by the reaction of acylhydrazones 4-13 with thioglycolic acid / thiolactic acid. Structures of all synthesized compounds 14-33 were confirmed by IR, 1H-NMR and HR-MS analysis and 13C-NMR were recorded for selected compounds 17, 21, 28 and 30. None of the compounds 14-33 showed activity against HIV-1 (strain IIIB) or HIV-2 (strain ROD) in an MT-4/MTT based assay. Compounds 14-33 were also screened against Feline Corona Virus (FIPV), Feline Herpes Virus, HSV-1(KOS), HSV-1 (TK-KOS ACVr), HSV-2 (G), Vaccinia virus, Vesicular stomatitis virus, Cytomegalovirus, Varicella-Zoster virus, Respiratory syncytial virus, Coxsackie B4 virus, Parainfluenza-3 virus, Reovirus-1, Sindbis virus and Punta Toro virus, but none of them showed antiviral activity at subtoxic concentrations. Anti-HCV NS5B RdRp activity of some selected compounds from the series 14-33 were found to vary between 4.1-27 % at the concentration of 100 μM. In vitro antibacterial activity evaluation of selected compounds 16-23 and 25-32, against Staphylococcus aureus ATCC 25923, Escherichia coli ATCC 25922, Pseudomonas aeruginosa ATCC 27853, Enterococcus faecalis ATCC 29212, Klebsiella pneumoniae ATCC 4352, Bacillus subtilis ATCC 6633, Staphylococcus epidermidis ATCC 12228, MRSA and antifungal activity against Candida albicans ATCC 10231 resulted in the MIC values between 625->5000 μg/ml.
Keywords :

4-Thiazolidinones; L-valine; antibacterial activity; anti-HIV activity; anti-HCV activity