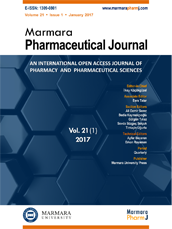 Editor-in-Chief
Hatice Kübra Elçioğlu
Vice Editors
Levent Kabasakal
Esra Tatar
Online ISSN
2630-6344
Publisher
Marmara University
Frequency
Bimonthly (Six issues / year)
Abbreviation
J.Res.Pharm.
Former Name
Marmara Pharmaceutical Journal
Journal of Research in Pharmacy
2020 , Vol 24 , Issue 1
Assessment of the pharmacy students' e-health literacy and mobile health application utilization
1Department of Clinical Pharmacy, Faculty of Pharmacy, Marmara University, Haydarpaşa 34668 İstanbul, Turkey
DOI :

10.35333/jrp.2020.125
The aim of this study is to evaluate pharmacy students' behaviours towards mobile health applications and e-health literacy. This electronic descriptive and cross-sectional study was conducted in pharmacy students in Istanbul, Turkey for two months. A questionnaire was designed based on the previous studies to evaluate knowledge and behaviours, point of view and perception about mobile health apps in pharmacy students. Turkish version of the eHealth Literacy Scale (eHEALS) was applied to the pharmacy students. The response rate was 88.10% (n=229). Among 260 pharmacy students, mobile health apps users and male pharmacy students had statistically higher eHEALS score when compared with non-users and female pharmacy students (p<0.05). Fifth-grade pharmacy students had statistically higher scores when compared with the third-grade pharmacy students (p<0.001). It was found that 83.08% (n=216) pharmacy students said that mobile health apps improve patient's quality of life whereas 30.00% (n=78) thought that pharmacists have not sufficient knowledge of the using mobile health apps. As a conclusion, it was seen that pharmacy students' knowledge and behaviours towards mobile health application will be increased with improving their e-health literacy levels.
Keywords :

E-health literacy; knowledge and behaviours; mobile health application; pharmacy student