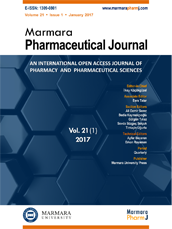 Editor-in-Chief
Hatice Kübra Elçioğlu
Vice Editors
Levent Kabasakal
Esra Tatar
Online ISSN
2630-6344
Publisher
Marmara University
Frequency
Bimonthly (Six issues / year)
Abbreviation
J.Res.Pharm.
Former Name
Marmara Pharmaceutical Journal
Journal of Research in Pharmacy
2019 , Vol 23 , Issue 2
The percentage of depressive symptoms in patients with type 2 Diabetes Mellitus in M Djamil General Hospital Padang, Indonesia
1Department of Internal Medicine, Faculty of Medicine, Andalas University, Padang, Indonesia
2Department of Pharmacy, Faculty of Pharmacy, Andalas University, Padang, Indonesia
DOI :

10.12991/jrp.2019.136
The objectives of this study are to find the percentage of depressive symptoms and the most appeared clinical manifestation of depressive symptoms. A total of 2016 patient with type 2 diabetes from M Djamil General Hospital had fulfilled the questionnaire we administered. Demographic and clinical data were determined from the patient's medical records. Depressive symptoms defined by The Center for Epidemiologic Studies Depression Scale-Revised (CESD-R) score of 16 or higher. CESD-R consisted of nine symptoms group and a 20-item questionnaire. These symptoms groups in patients with depressive symptoms will be counted. Patients with depressive symptoms were grouped based on a type of diabetic medication they consumed (diet only, oral antidiabetic, and insulin) and diabetic complication. From 2016 patients participated in this study, we found 235 (11.7%) patients were having depressive symptoms. The most appeared clinical manifestation in 235 patients with depressive symptoms is fatigue (88.08%), loss of interest (52.34%), sadness (41.7%), poor concentration (40.42%), and agitation (23.83%). There are more depressive symptoms in patients consuming oral antidiabetic drug than patients using insulin and diet only (70.2 vs. 28.1 vs 1.7%). More depressive symptoms are also found in patients with diabetic nephropathy than patients with diabetic neuropathy and heart disease (52.8 vs. 27.7 vs. 19.6%). These findings showed that there are many depressive symptoms in patients with T2DM, and some of most appeared clinical manifestation in depressive symptoms should be considered.
Keywords :

Diabetes; depressive symptoms; oral antidiabetic; insulin; clinical manifestation