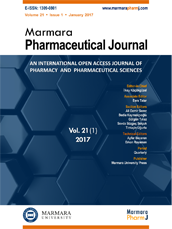 Editor-in-Chief
Hatice Kübra Elçioğlu
Vice Editors
Levent Kabasakal
Esra Tatar
Online ISSN
2630-6344
Publisher
Marmara University
Frequency
Bimonthly (Six issues / year)
Abbreviation
J.Res.Pharm.
Former Name
Marmara Pharmaceutical Journal
Journal of Research in Pharmacy
2019 , Vol 23 , Issue 1
Morphological characteristics of Clinopodium acinos and Clinopodium suaveolens (Lamiaceae) growing in Turkey
1Department of Pharmaceutical Botany, Faculty of Pharmacy, Anadolu University, 26470 Eskişehir, Turkey
DOI :

10.12991/jrp.2018.109
In this study, morphological and taxonomical characteristics of Clinopodium acinos (L.) Kuntze and C. suaveolens (Sm.) Kuntze previously treated as Acinos in Flora of Turkey were investigated. C. suaveolens grows in North-West and the West Anatolia and has strongly aramotic odorous while C. acinos is recorded from North Anatolia and has slight odorous. The species had been collected from different area of Turkey. They are studied for the first time using stereoscopic microscopy and detailed descriptions and illustrations of general appearance of plants and leaf, bract, flower, calyx, corolla and nutlet shapes are described and illustrated. The lengths of stem, bract, corolla and calyx lower teeth, verticil number and odorous of the plants are found significant diagnostic character to distinguish the species. At the same time, the variation borders of species in Flora of Turkey was expanded and a identification key prepared.
Keywords :

Acinos; Clinopodium; Lamiaceae; morphology