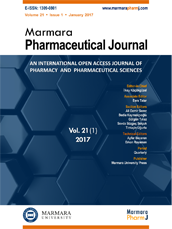 Editor-in-Chief
Hatice Kübra Elçioğlu
Vice Editors
Levent Kabasakal
Esra Tatar
Online ISSN
2630-6344
Publisher
Marmara University
Frequency
Bimonthly (Six issues / year)
Abbreviation
J.Res.Pharm.
Former Name
Marmara Pharmaceutical Journal
Marmara Pharmaceutical Journal
2018 , Vol 22 , Issue 4
The role of the pharmacist from development to pharmacovigilance of biosimilars
1Faculty of Pharmacy, Eastern Mediterranean University, Gazimagusa, Turkish Republic of Northern Cyprus via Mersin 10 Turkey
DOI :

10.12991/jrp.2018.73
Biologics such as vaccines, recombinant proteins and antibodies are used to treat or prevent different chronic and complex diseases and they have a high market share. Improvements in biotechnology, leads increased production and use of these products. Because of high manufacturing cost, they are expensive and have significant drawbacks about their use and patient accessibility. Biosimilars are cost-effective therapeutic alternatives of biologics, which can be marketed after the expiry of the patent of the reference biologic. Biosimilars can provide cheaper alternatives and they can help reduce health care expenditure significantly. Although there are many publications related to the importance of biosimilars in the literature, there are not enough studies on the role of the pharmacist from development to pharmacovigilance of these drugs. In this article, besides the importance of these drugs we addressed the crucial contribution of the pharmacists in preparation of biosimilar drugs, establishing regulations and approval pathways to take place in the market and the investigation of the side effects after marketing. We also emphasized the role of pharmacist at development, manufacturing, dispensing, post-marketing pharmacovigilance, regulations and usage of biosimilars.
Keywords :

Biologics; bio-pharmaceutics; biosimilars; role of pharmacist